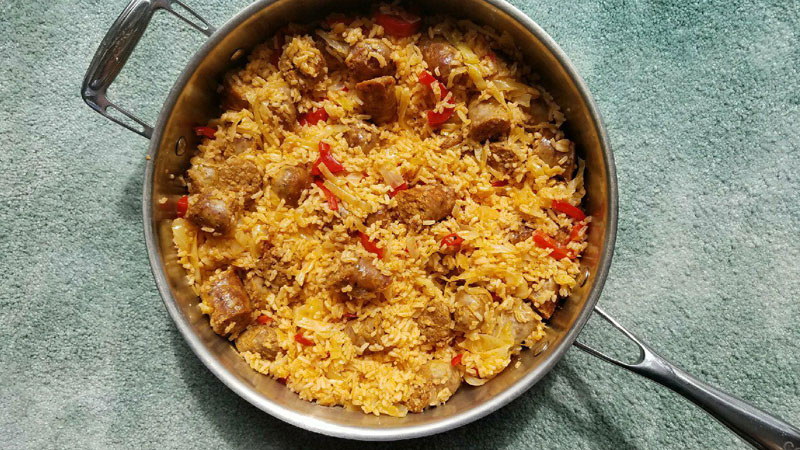 Okay, we admit it, Ron and I. We have seldom met a sausage dish that we did not like. This is another one we met up with last summer. The twist on this is the use of cabbage instead of sauerkraut. Of course, my husband probably liked the dish even more because I made use of one of his garden cabbages.
I have cooked the cabbage in the skillet along with the onion and bell pepper, and that method tasted good, very good (pictured). But I have found that the flavor and the texture of the cabbage is greatly improved by brushing 1 + inch chunks with olive oil and roasting them in the oven at 400 until nicely browned.
I recently served this to company, but I went overboard on the amount of cheese I used, and it overwhelmed the entire dish. So, in regard to the cheese, I suggest sticking to the recipe.

Author:
Inspired by HillshireFarm.com/recipes
Ingredients
2 pounds polish sausage, diagonally sliced
1 clove garlic, crushed
¼ cup olive oil
1 red bell pepper, sliced thin
1 onion, sliced thin
½ cup water
1 cup tomato sauce
1 pound cabbage, sliced thick, roasted (read food blurb)
3 cups rice, cooked
1 cup Mozzarella cheese, shredded
Instructions
Heat olive oil, and garlic in skillet.
Stir in sausage, and cook until browned.
Add bell pepper, onion, water and tomato sauce.
Simmer 10 minutes, until liquid is almost absorbed.
Add cooked rice and cabbage.
Reheat to warm.
Sprinkle lightly with cheese.