"May the God of hope fill you with all joy and peace
as you trust in Him, so that you may
overflow with hope by the power
of the Holy Spirit."
Romans 15:13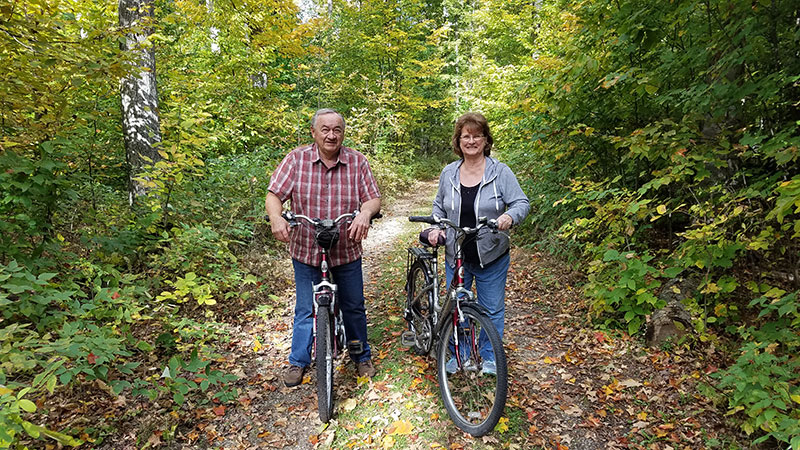 Ron and Susanne Elenbaas
My husband, Ron, and I are from the small town of McBain, MI. We moved to Traverse City in 1966 when Ron began his teaching career. We have attended Faith Reformed Church for nearly 40 years, and have, as of 2018, been married for nearly 54. After raising our children, I was employed at Traverse City West Senior High School to develop and run an activity program which won a Michigan Education Award. After 10 years, I left to more fully engage in discipleship. We have five married children, 13 grandchildren, three great-granddaughters. My love-language is cooking for anyone who eats – so I have a huge collection of recipes and dishpan hands.
Since a young age, I  have attended church.  At 16, I accepted Christ as my  Savior, but it was not until my 30's, in '79, that I began to sit at-length with God, pray, and read His Word. It was then  that I learned  what was meant  by, "a personal relationship with God." Because of that, it has become my fervent desire that every Christian would come to know what I  did not know for far too many years. We find our true purpose when we live life with God, through God, for God.
In the spring of 1987, after regularly sitting alone with God for seven years, He called me to discipleship ministry – encouraging believers to grow in faithfulness. That August, He added writing as a calling for that same purpose. With that in mind, I attended Northwest Community College, devouring their writing courses. Since those callings I have been active in one-on-one discipleship, group discipleship, small group ministry, Daily Dozen – an intercessory prayer ministry, and writing. I welcome every opportunity to instruct believers on how to have a quiet time with God. If I might be of help to you please contact me.
I serve God to the best of my ability, not because of who I am, but because of whose I am, so He keeps me busy. I have no plans to stop until my heart does.