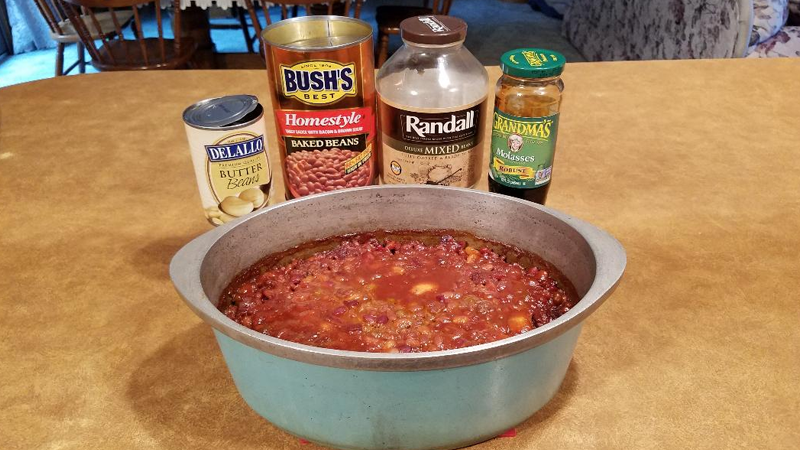 Dear Cook, for most of our family, and extended family, there was only one baked bean recipe, as it had been for my mother. I have eaten the same beans all my life – that's a long time. But once my friend, Joan, offered to bring baked beans to our small-group, Bible study meal, I had a dilemma. "Which beans should I make for my family?" So, this week I am giving you Joan's recipe, next week, my mother's. Perhaps, you can help me decide, "Which beans should I make?"
For a printed copy, with or without photo, click green dot on left side at the bottom of this page.
If you would like a Monday reminder, and quick link, in your email to next week's post, just sign-in at the secure registry at the top of this page, and click GO. For a private conversation, please write your message on the Contact page found at the right on the Home Page.

Ingredients
Brown and sauté:
½ lb. bacon, cut in ½ inch pieces
medium onion, chopped
In small fry pan, brown bacon pieces. Add onion and saute.
Save all the bacon/onion drippings to add to the beans.
15½ ounce, dark kidney beans, drained
15½ ounce, lima beans, drained
3 lbs 5.5 ounces Campbell's Pork & Beans, not drained
1 cup catsup
½ t. Tabasco sauce
2 cloves garlic, crushed
½ cup brown sugar
1 t. dry mustard
1 T. Worcestershire sauce
Instructions
Add bacon, onions and drippings.
Bake, uncovered, in 2 & ½ quart casserole dish at 330 for 1 & ½ hours. If dry, add a few teaspoons of water.