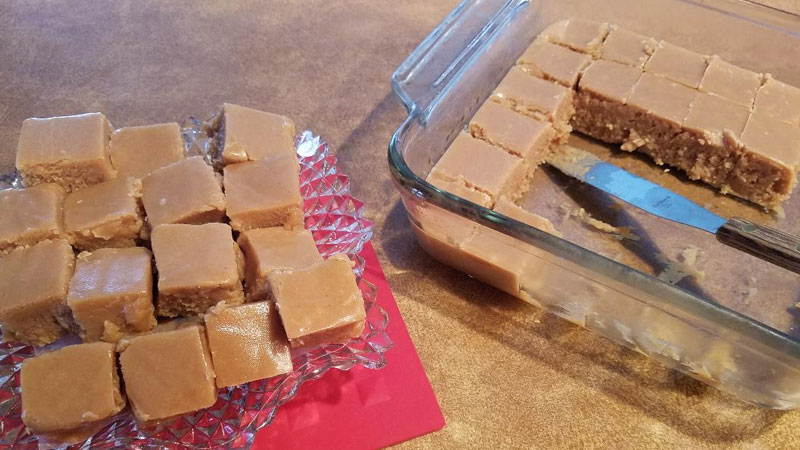 I am not sure that I should share this recipe with you. For it seems to turn out just a little bit different every time I make it, either too soft, just right, or dry. The problem, I believe, is that my electric fry pan does not get as hot as it should, so I have to adjust the time from that of the recipe. But I can tell you this, the finished product is usually lip-smacking.
If boiled too long or too hard it is dry, and crumbly, but the crumbs have many uses…they can be sprinkled over frosting, pancakes, cookies, ice cream, added to granola, or hey, just eaten as is.
If not boiled long enough, or hard enough, it can be too soft to cut into precise pieces, or may even need to be eaten with a spoon. If you are like me, you are familiar with eating peanut butter from the jar with a spoon, soft fudge is even better.
The problem is determining just how much heat to use and how long to boil it. The pan size, the time, and amount of heat determine the outcome. I go back and forth between boiling the fudge in a cast-iron fry pan or my electric fry pan. So, if you make it, you will have to figure out what works best in your kitchen. No matter how it turns out, I have never thrown any away.
Good luck perfecting it, and then getting the same results twice. The fudge pictured was soft. So, I kept it in the refrigerator.
The recipe comes from a collection of favorite recipes compiled by the women's Guild for Christian Service of the Rehoboth Reformed Church in Lucas, Michigan, the church my husband attended in his youth. I'm guessing it may have been published in the 70's. For me, the cookbook is filled with familiar names. My husband was raised in Lucas, just five miles from my hometown of McBain, and began school there in a one-room, school house with an outside toilet. No, he is not a hundred-years-old. Things have changed a bit, haven't they?
For a printed copy, with or without photo, click green dot on left side at the bottom of this page.
If you would like a Monday reminder, and quick link, in your email to next week's post, just sign-in at the secure registry at the top of this page, and click GO. For a private conversation, please write your message on the Contact page found at the right on the Home page.

| | | |
| --- | --- | --- |
| Peanut Butter Fudge | | Print |
Ingredients
2 cups white sugar
3 tablespoons butter
1 cup evaporated milk
1 cup miniature marshmallow
12 ounces peanut butter
1 teaspoon vanilla
Instructions
Combine sugar, butter and milk in electric fry pan.
Turn heat on high and boil 5 minutes, stirring constantly.
Turn off heat and add other ingredients.
Stir until marshmallows are melted.
Pour into an 8-inch square pan.
Cool.