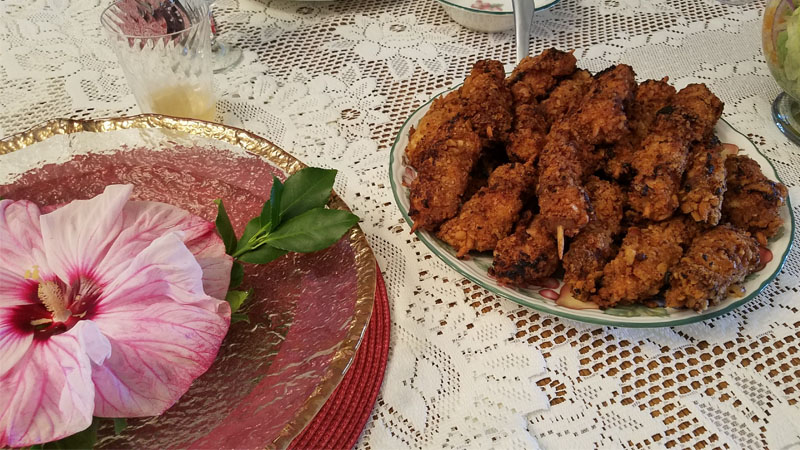 City Chicken can cause some confusion. For it is not made with chicken. My mother's recipe is 3 parts pork and 2 parts veal. Mom counted the cost; veal was two to three times more expensive than pork. She discovered City Chicken at the butcher shop while living in Dearborn, Michigan. Many years later, Mother, with loving attention, made City Chicken a Christmas tradition.
Having grown up eating City Chicken for holiday meals, and our kids growing up eating it too, we never thought to explain to our guests that that the entrée was named for its resemblance to a chicken leg. So, it happened that when our five kids were teenagers, all were born within a span of 5 years and 8 months, we invited our youth pastor for dinner. After he had made a few sorry attempts to eat a piece of City Chicken, I realized his problem. "You know, that is not chicken, it is pork and veal." He replied with an expression of relief, and a laugh, "I thought it didn't taste right."
Toward the end of the meal, he crumpled up his napkin, and tossed it across the table into one of the kid's glass of milk. Yup, I thought, this young pastor knows how to keep the kid's attention. Of course, crumpled napkins began sailing every which way, for the first and nearly last time.
Enjoy!
Susanne
For a printed copy, with or without photo, click green dot on left side at the bottom of this page.

| | | |
| --- | --- | --- |
| City Chicken (Pork and Veal) | | Print |
Author:
Dorothy Kenyon Box
Ingredients
Veal, 1.5 lbs., cut in ¾ inch by ¾ inch pieces
Pork, 1.5 lbs., cut in ¾ inch by ¾ inch pieces
Short wooden skewers
Eggs, beaten
Salt and pepper
Saltine cracker crumbs
Instructions
Place one piece pork, veal, pork, veal, pork on a short stick.
Roll well in beaten eggs.
Liberally salt and pepper each stick.
Roll in cracker crumbs.
Lightly brown in oil.
Place in heavy roaster or Dutch oven.
Cover and bake at 350 degrees for 45 minutes.
Makes 18 sticks.
After browning, the meat can be refrigerated, for later, or next day roasting.
If refrigerated, plan for more roasting time, perhaps 15 to 20 minutes.
If you would like a
Monday reminder,
and quick link, in your email to next week's post, just sign-in at the secure registry at the top of this page, and click
GO. For a private conversation, please write your message on the Contact page found at the right on the Home page.