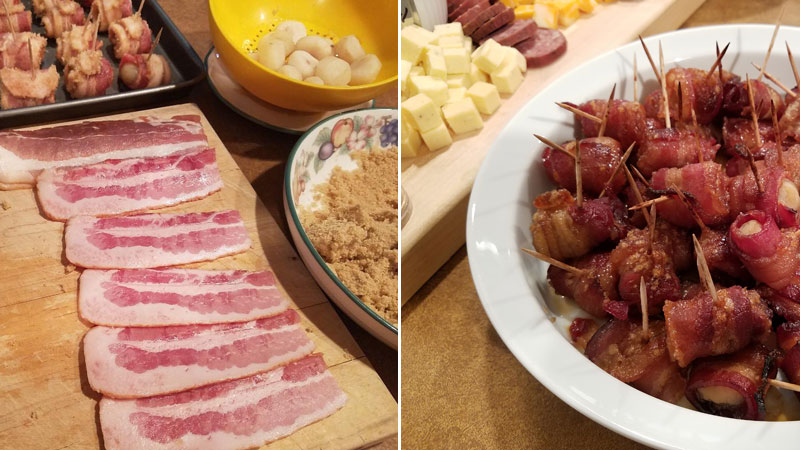 Most cooks do not consider convenience and Bacon Wraps synonymous. For while making them the brown sugar begins to melt from the wrappings – making it necessary to bake immediately.  After adding the fact that they are meant to be served piping hot from the oven, they do not meet the criteria of a convenient appetizer.
Since that did not work for me, I changed the method up. When I did, I discovered that the wraps can be baked successfully one day in advance. Oh, but do hide them in the back of the fridge for they are a perfect taste treat for hungry tummies!  And eating one definitely leads to another.
Here's what I do. I bake them a day ahead, until they are completely done, nicely browned, almost, but not burnt. You may find that even a little black on the bottom is preferable. I remove the wraps to a drip plate, then move them to a nice serving/baking dish. After they have cooled completely, I cover the dish, and place it in the refrigerator. The next day, shortly before serving, I reheat them, uncovered, at 325 for 10 to 20 minutes and serve. Don't worry about them getting cold, people go crazy for them hot, room temperature, or straight from the refrigerator the next day! There are rarely any wraps left.
I have always used regular, sliced bacon until last week when Ron, my husband, accidentally brought home thick bacon. Although the wraps did take longer to bake, they turned out very good. But, I will go back to using regular sliced because the size is better for a finger/toothpick type appetizer. The next experiment with the wraps will be to discover how well they freeze. I am not to sure that water chestnuts freeze well. Have you had any luck freezing them whole?

Ingredients
Sixteen ounces of regular sliced bacon (Some packages are only 12 ounces.)
Brown sugar (undetermined amount)
Two - eight ounce cans of WHOLE water chestnuts
Instructions
Pat ½ slice of bacon in brown sugar.
Wrap around a small or halved water chestnut.
Secure bacon with toothpick.
Place on edged baking sheet.
Bake at 350 for 50 minutes, or until VERY nicely browned.
One pound of bacon slices, halved, makes about 32 pieces.
Eight ounces of water chestnuts has about 22 chestnuts,
Large chestnuts should be cut in half.