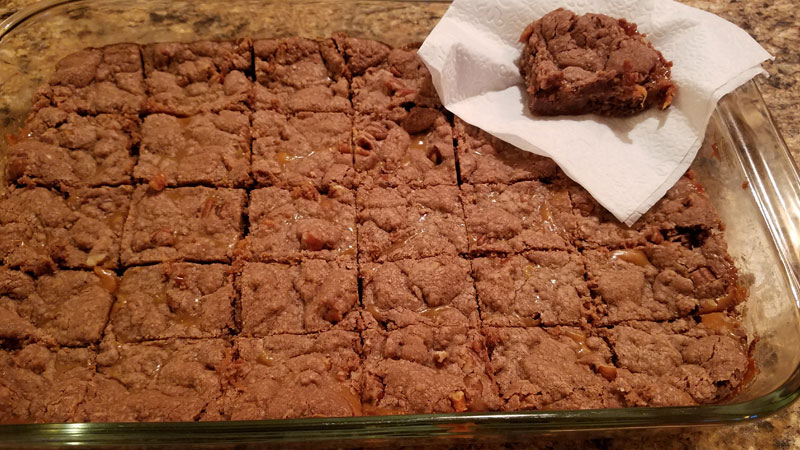 Since Ron's a-fib, we have been eating a 1200 calorie diet. This means that a batch of these delicious Caramel Brownies will only be made for company…with leftovers individually wrapped and frozen to enjoy for an occasional…small…dessert.
I first had these brownies when a fun loving Italian volunteer, Cindy, brought them to the Noon Activity Program, a program I ran at West Senior High. Cindy's last name was Guba, and so, in this house, they have always been Guba Bars. The recipe heading makes me think of her and her room brightening smile, and laughter. We had some different views on life, but thoroughly enjoyed one another. I miss seeing her, but do see her, on occasion, when we volunteer at a, once-a-year, T C Cares clinic.
By making personal notes on recipes, our recipe collection becomes a memory album, one which sweetens our time spent in the kitchen. Next week, I will be making a new recipe…made with short, wide noodles. While making them, with my grandma's noodle recipe, I will be enjoying sweet,  calorie-free, thoughts of Alta Kitson Kenyon.

Author:
Received from Cindy Guba
Ingredients
German Chocolate Cake mix
5 oz. evaporated milk, NOTE - save ⅓ cup milk for caramels
Use remaining milk in dry cake mix
14 oz. bag caramels
¾ cup butter, melted
1 cup chopped pecans
6 oz. chocolate chips
Instructions
Melt caramels and ⅓ cup evaporated milk on low heat, set aside.
Mix dry cake mix, butter, remaining milk, and nuts.
Spread ½ mix in a 9 x 13 greased pan.
Bake at 350 degrees 6-10 minutes.
Spread chocolate chips over baked layer.
Pour caramel mixture on top.
Place remaining cake batter on top.
Bake 16-18 minutes or until done.