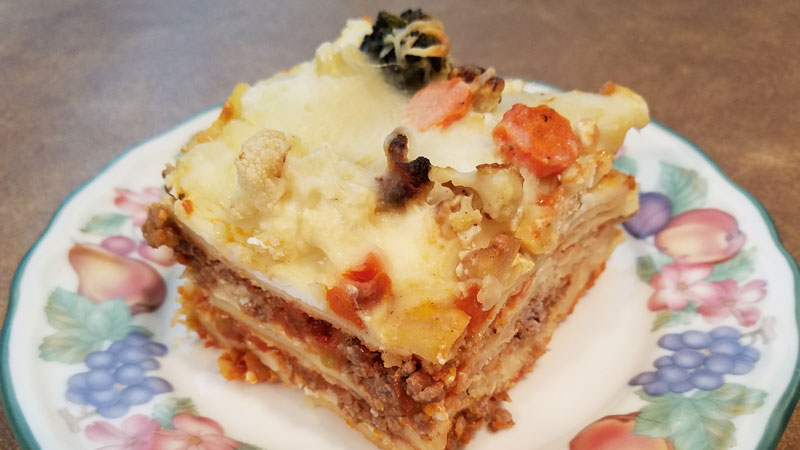 No, this recipe never won a prize, but by many who have eaten it, it has been declared a winner. My mother, Dorothy Box, loved cooking; she honed her recipes until they totally met with her approval. Dinners in her home were complete, well thought out, and nearly every one ended with a dessert. If time was short, and a dessert was not ready, something delicious from her home-canned goods, and well-stocked freezer appeared, perhaps a dish of 'perfectly' preserved peaches, and vanilla ice cream.
I remember Mother developing this week's lasagna recipe – minus the vegetables. She was especially pleased with it.  She changed amounts, meat, cheeses, and spices until she came up with what has become a favorite entree' for many of her friends and relatives.
It freezes well, but before freezing it, let it rest in the refrigerator overnight to marry the flavors. Thaw in refrigerator for 24 hours before baking. Heat on low (200) for an hour, then turn heat up to 325. When it has been frozen, it is difficult to know how long it will need to bake – do not bake above 350.
04-09-11 – I made a double recipe in a 15.5 x 11.25 x 3.50 inch-deep pan, 4 layers deep, 20 noodles – made one day in advance. It baked at 200 for 2.5 hours, 275 for 30 minutes, 350 for 30 minutes. Rested 10 minutes. Perfect! It fed 14 adults, and 6 kids, with three helpings left.
This summer, when we had a vegetarian guest visiting us from California, I added roasted vegetables (broccoli, cauliflower, parsnips, and carrots) to the layers of the lasagna. And, when stacking the layers, I left one end of the pan meatless, not without sauce, but without the meat. It worked well, and was enjoyed. It certainly changed the taste from that of my mother's original. So now I have two excellent lasagna recipes, one with, and without, veggies.
For roasting veggies – cut them almost twice the size of bite-sized pieces. Spread them out on a oiled, large, edged-cookie sheet. Brush with olive oil, sprinkle with salt and pepper, and bake at 425 for 15 minutes.  The veggies shrink a lot, so begin with 9 – 10 cups or more. Sorry, I forgot to record the actual amount used. If you have extra veggie freeze in small bags – for they are great in omelettes!
Oh, one last thing. I have a friend who makes this recipe, but she uses half ground beef and half Italian sausage.  Mother would not appreciate anyone messing with her recipe, even her daughters, but she would keep it to herself. And, except for a little frown, no one would know.

Author:
Dorothy Kenyon Box
Ingredients
1.5 lb. lean ground beef
⅔ cup chopped onion
1.5 clove garlic - minced
9 oz. tomato paste
1.5 cups stewed tomatoes
1 tablespoon salt
2 dashes pepper
¾ teaspoons basil
¾ teaspoons oregano
¾ lb. grated parmesan cheese
½ lb. lasagna noodles (12)
1 lb. 2 oz. cottage cheese -small curd
1 lb. shredded mozzarella
Instructions
Cook beef, onion, and garlic until brown.
Drain.
Add paste, tomatoes, salt, pepper, basil and oregano.
Cook on low until thick, about 15 minutes.
Boil lasagna noodles according to box directions.
In a greased 9 x 13 dish place in layers: tomato-beef, Parmesan, noodles, cottage cheese, and mozzarella.
Repeat for three layers.
Cover with foil or lid. If foil, keep foil from touching cheese.
Bake at 350 degrees until nicely melted, about 30 minutes.
If baked cold from the refrigerator bake 60 minutes or more.
Check center - cheese should be melted.
Let rest ten minutes.
Cut serving sizes.