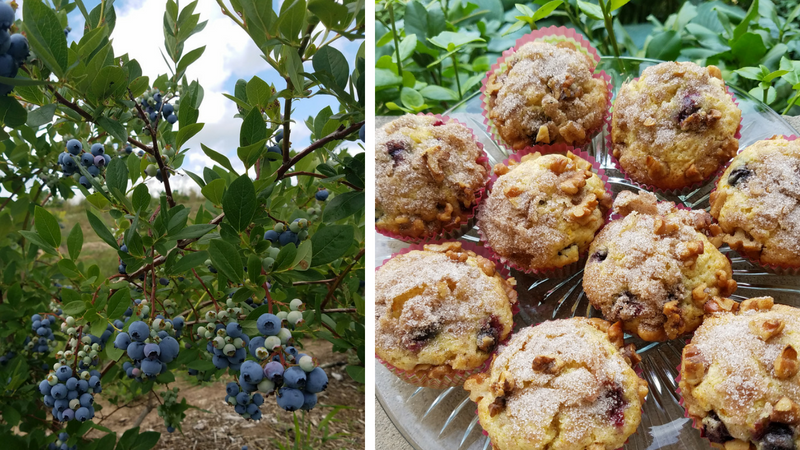 I come from a long-line of fruit gatherers, I grew up picking both wild and U-Pick berries with my grandparents, and parents. Since my mother's passing, I have never left a berry patch that I haven't recalled her excitement as she dropped handfuls of fruit into her belted bucket. Her delight was contagious. Last week Ron and I picked 14.5 lbs of the most beautiful blueberries for $2.00 a pound at Bulldog Berries. We quickly picked what we needed, but I did not want to leave the berry patch. To make the separation easier, Ron suggested that we come back again, and pick just for the fun of it. That suggestion helped; I was able to break my bond with the blueberry bushes, pick up my stool, and head to the weighing station thinking… we will return.
At home, without rinsing the berries, I sorted them, a quick and easy task – for the berries were a nice size. Then I poured the berries out flat on edged cookie and sheet-cake pans, and froze them overnight. In the morning, they were hard as marbles…ready to quickly bag. With the berries solidly frozen, they could be bagged loose. All winter, I would easily be able to remove the amount needed – for a pie, or just a few to sprinkle over cereal. Oh, you are probably wondering when they get rinsed clean…just before using them.
The Orange Blueberry Muffins are made with a cup of quick oats. The oats give the muffins a great texture. The topping – a nutty-sugar coating does not overwhelm the orange-blueberry flavor like a streusel topping might. I do like streusel though! I have thought about doubling the grated orange zest, but have not yet tried that. It might be too much. The recipe says it makes 18 muffins, but even filling my liners more than 3/4 full, I easily had enough batter for 20. Amazingly, all but two of the muffins made it into the freezer for next weekend! Of course, the weekend is not here yet.

| | | |
| --- | --- | --- |
| Orange Blueberry Muffins | | Print |
Author:
Courtesy Taste of Home, tasteofhome.com
Ingredients
1 cup quick-cooking oats
1 cup orange juice
3 cups all-purpose flour
1 cup sugar
2 & ½ teaspoons baking powder
1 teaspoon salt
½ teaspoon baking soda
1 cup canola oil
3 large eggs, lightly beaten
1 & ½ cups fresh or frozen blueberries
1 & ½ teaspoons grated orange zest
Topping:
½ cup chopped walnuts
⅓ cup sugar
1 teaspoon ground cinnamon
Instructions
In a small bowl, combine oats and orange juice.
In a large bowl, combine the flour, sugar, baking powder, salt and baking soda.
Combine the oil, eggs and oat mixture.
Stir into dry ingredients just until moistened.
Fold in blueberries and orange zest.
Fill paper-lined muffin cups two-thirds full.
Makes 18 muffins.
Combine the topping ingredients; sprinkle over batter.
Bake at 400 degrees.
Bake 15-20 minutes until a toothpick inserted in the center comes out clean.
Cool for 5 minutes before removing from pans to wire rack.
Serve warm.