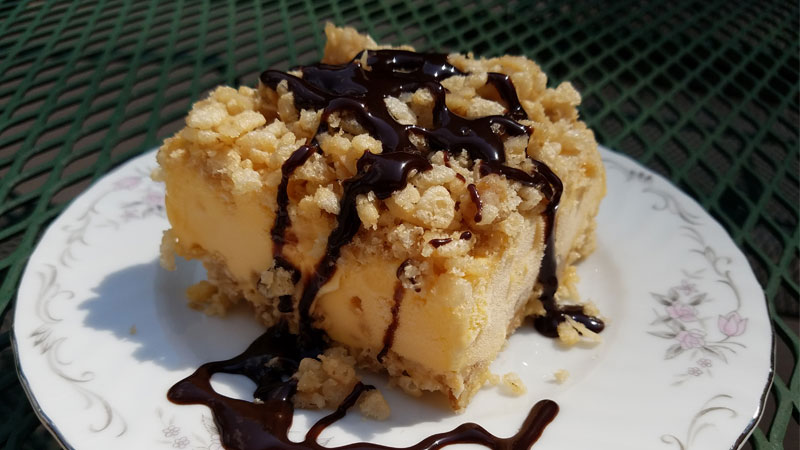 Spades, Diamonds, Clubs, Hearts – were not something I was very familiar with on one of my earliest dates with Ron in 1962. We went to his sister Marion's home, and with her, her husband, and Ron's dad, played cards. Well, they played cards. When it was my turn, I just placed a random card in the middle of the table. Cards appeared and disappeared at a rapid rate, and I didn't have a clue as to why. At the end of the long, and embarrassing, evening Marion served Ice Cream Rice Krispie Dessert. THAT, I enjoyed. I have been making the dessert ever since.
Over time, under Ron's influence, my family became a game playing family too. And once our own children's hands were almost large enough to hold cards, Ron had them playing too. Now in the evening, throughout the summer, Ron and I often play cards on the front porch. Lately it has been gin rummy. Last night we played two games, and he won both, but that did not bother me too much, for I whipped him twice the night before.
This recipe keeps well in the freezer, and even some people who usually do not enjoy ice cream often seem to like it. If you would like to dress up the dessert, add a dollop of whipped cream and a maraschino cherry. For such occasions I keep a large jar of stemmed cherries, 4 lbs. 10 ounces from Sam's Club, in the refrigerator. It keep for months. My container is good until next January. Kids of almost any age seem to think that they 'really' have something special if it is topped with a cherry.

| | | |
| --- | --- | --- |
| Ice Cream Rice Krispie Dessert | | Print |
Author:
Received from Marion Longstreet
Ingredients
2 & ½ cup Rice Krispies
½ cup brown sugar
1 cup coconut
½ cup nutmeats
½ cup butter, melted
2 quarts vanilla ice cream
Chocolate syrup
Instructions
Mix first 5 ingredients.
Gently press half into a 9 X 13 glass dish.
Gently spoon and lightly press ice cream over Rice Krispie layer.
Cover ice cream with the remaining mixture.
Freeze overnight.
Serve with a drizzle of chocolate syrup.