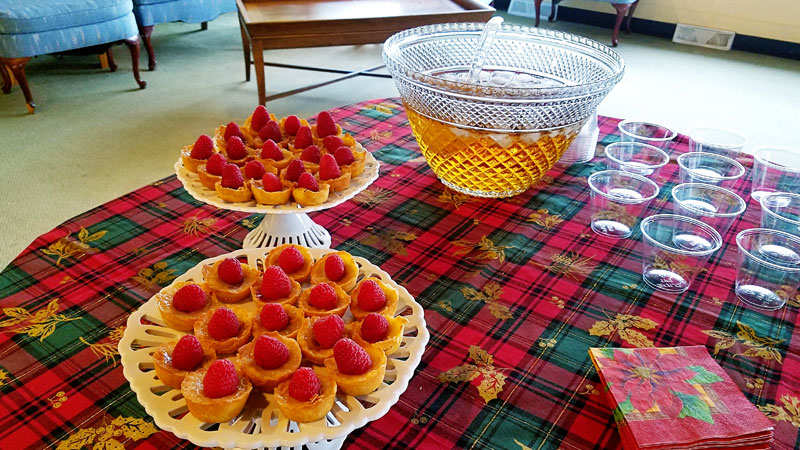 I found this recipe for Raspberry Sugar Cream Tarts in the Taste of Home magazine, and first made them in 2013. They were served along side a punch bowl as a finger-food ice breaker. It takes a bit of patience to make the dainty, buttery shells, and ever so carefully fill them, but once they are baked, they do freeze nicely. So that is a convenience. When ready to serve, take from the freezer, let thaw, add one fresh raspberry to the top of each tart, and voila, you have an eye-appealing, melt-in-your mouth appetizer! I serve them on one, or two, small pedestal dishes. Impressive.
Learned from trial and effort: A few minutes into baking the shallow shells, pull them from the oven and with the end of a dowel press the dough down in each of the shells. Return to oven to finish baking. This effort will assure that there is space for the right amount of filling. Tedious, yes, but in my opinion, worth the effort.

| | | |
| --- | --- | --- |
| Raspberry Sugar Cream Tarts | | Print |
Author:
Courtesy Taste of Home, tasteofhome.com
Ingredients
For mini shells
¾ cup unsalted butter, softened
½ cup sugar
2 egg yolks
¾ teaspoon almond or vanilla extract
⅛ teaspoon salt
1 & ¾ cups all-purpose flour
FILLING:
3 tablespoons seedless raspberry spreadable fruit
¾ cup sugar
3 tablespoons all-purpose flour
dash of salt
¾ cup heavy whipping cream
⅓ cup half-and-half cream
½ teaspoon almond or vanilla extract
Fresh raspberries - one for each tart
Instructions
For shells -
In a large bowl, cream butter and sugar until light and fluffy.
Beat in the egg yolks, extract and salt.
Gradually beat in flour.
Shape dough into ¾ inch balls; place in greased mini-muffin cups.
Press evenly onto bottoms and up sides of cups.
Cool in refrigerator for 30 minutes.
Bake at 350 for 10 to 12 minutes or until light brown.
Near the end of baking, remove and press down the centers to make room for the filling.
Finish baking.
Cool in pans on wire racks.
For filling -
Spread ¼ teaspoon spreadable fruit onto the bottom of each crust.
In a small bowl, combine the sugar, flour and salt.
Whisk in the whipping cream, half-and-half and extract just until blended (mixture will be thin).
Spoon 2 teaspoons filling into each crust.
Bake 12 to 14 minutes or until filling just begins to bubble.
Cool for 10 minutes before removing from pans; cool completely on wire racks.
Just before serving, top with raspberries.
Refrigerate.
Yield 3 dozen.