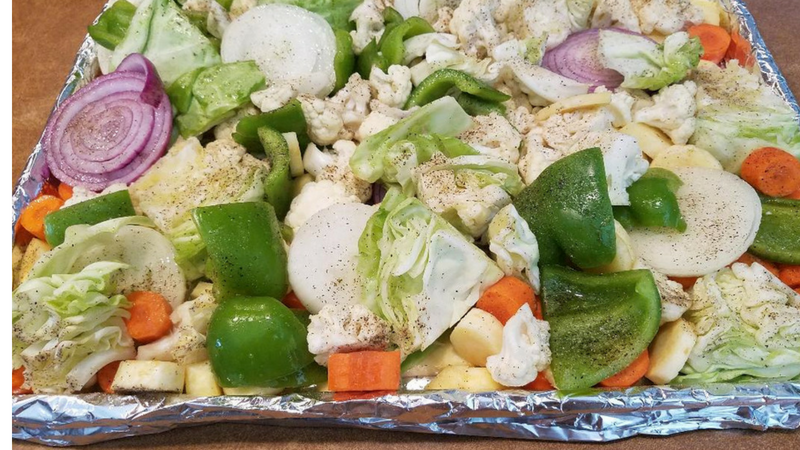 Sometimes when I am preparing a menu, I forget about roasted veggies, but when my mind lands on them, that's what I serve.
So, this isn't so much a recipe offering, for roasting veggie is as simple as can be. This is more of a reminder – that roasted vegetables are delicious and convenient for most any company meal. They can be readied a day ahead, and just popped in the oven shortly before the meal, or can be roasted a day ahead, reheated, or served at room temperature. Either way, the vegetables seem to arrive at the table in full excellence.
The vegetables shown in the picture are yellow and purple onions, green pepper, cauliflower, cabbage, carrots and parsnips. Parsnips are always a nice addition…mildly sweet. Sometimes I use chunks of winter squash, potatoes, various peppers, and a favorite – rutabaga.
There is a lot of cleaning and slicing to do, so I do prep a day ahead. I purposely make more than we will need. For diced up, leftover veggies are terrific in omelet's. I also add them to the bargain-price, frozen pizza's that my husband likes to bring home.
To make cleanup easy, line the roasting pan with lightly oiled foil. Another help, if you have a finicky quest, invite him to pick out only his favorite veggies, but perhaps, not until the other guests have been served.

Ingredients
Yellow onion
Purple onion
Green pepper
Cauliflower
Cabbage
Parsnips
Carrots
Instructions
After cleaning vegetables, let them dry some.
Cut into chunks, remembering that they will shrink while roasting.
Cover edged pan with oiled foil.
Spread vegetables evenly over pan.
Brush with olive oil.
Sprinkle with salt and pepper.
Roast in preheated 450 degree oven.
Depending on amount - roast 20 to 30 minutes.
The vegetables pictured roasted 30 minutes.