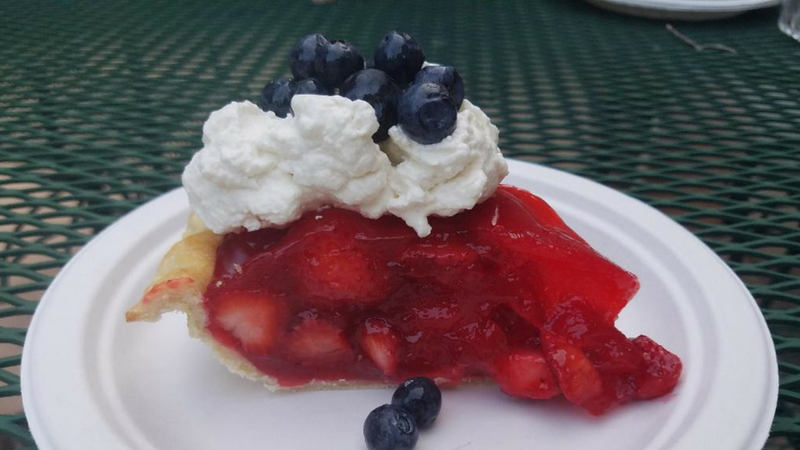 This 4th of July strawberry pie* was not only scrumptious, it was patriotic – with the addition of a few blueberries. I was told that "…every bite was outstanding." I could not take any credit for that. It was the berries that made the pie – for this year's local harvest was one of the best, so sweet and tasty.
The slice of pie pictured here is called a 'mile high pie.' The recipe included is normal size. To create a 'mile high,' use 8 cups of strawberries, and double the filling. Fill the pie shell in stages, letting it firm a bit, just a few minutes, before stacking it higher and higher. There may be a little extra filling leftover, but not always; the size of the berries determines the amount of filling to be used.
I first had this dessert at my parent's home in 1961 when I was sixteen. They hosted my cousin Nancy Kenyon's rehearsal dinner. Blanche, a widow and the groom's mother, brought the dessert, mile-high strawberry pies. Later, my widowed Uncle Fay married Blanche. It was said that she chased him until he caught her. We always teased that her strawberry pies helped seal the deal.
Instead of covering the top of the pie with whipped cream, I like to place a large dollop on each slice so that the strawberries are more visible.
*I consider this strawberry pie a seasonal recipe to be made with fresh local berries.

Author:
Blanche Hatfield Kenyon
Ingredients
9-inch baked pie shell
¾ cup white sugar
3 tablespoons cornstarch (level)
1 & ½ cups water - when using fresh berries
3 ounces of strawberry Jell-O
5 cups strawberries
8 ounces heavy whipping cream - very cold
½ cup confectioners' sugar - chilled
½ teaspoon vanilla
Instructions
Remove all pale or hard nubs.
Place nearly perfect berries in baked pie shell.
Mix first three ingredients in a saucepan dissolving sugar and cornstarch.
Bring to a boil.
Boil 2 minutes.
Remove from heat and add dry Jell-O.
Stir very well until completely dissolved.
Pour HOT filling over berries.
Refrigerate 5 to 6 hours, or overnight.
Refrigerate uncovered - covered crust gets soggy.
Whipped Cream Topping:
Make whipped cream an hour, or two, before serving.
Pour whipping cream into a chilled mixing bowl, chill beaters too.
When whipping cream begins to thicken, add sugar a little at a time.
Add vanilla.
Beat until thick.
Top the pie with whipped cream just before serving.