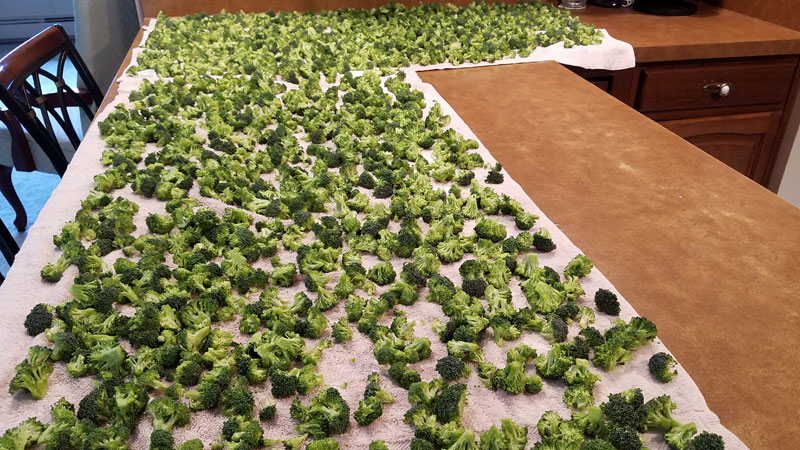 When you are asked to bring Broccoli Raisin Salad to your granddaughter's High School Graduation Open House – for 200 people, it would be wise to inquire as to how many other sides there might be. I made four batches, two would have been sufficient. I will not even mention how many batches of Ramen Coleslaw I made. Thankfully, I found enough takers for the salads that nothing went to waste, well to my waist, but not to waste.
The salad is best if mixed together, all but the bacon, an hour or so before serving. At the last minute, sprinkle the bacon bits over the salad. I wash, dry, and cut the broccoli, and fry the bacon a day ahead. It is important to clip the broccoli into dainty trees, and slice the purple onion very, very thin. Yes, I am a detailed cook, some might say picky, but I like to think more along the line of 'creative.'

| | | |
| --- | --- | --- |
| Broccoli Raisin Salad | | Print |
Ingredients
8 cups raw broccoli
½ medium purple onion
½ cup raisins
½ pound bacon
Dressing:
1 cup Miracle Whip
¼ cup Heinz apple vinegar
½ cup sugar
Instructions
Wash, dry and trim broccoli into tiny trees - cut off most of the small stem
Slice onion into very thin half rings
Fry bacon to crisp, cool, cut into bits
Mix together dressing ingredients
An hour before serving, mix dressing with broccoli, onions and raisins.
Before serving toss twice.
Just before serving top with bacon pieces.