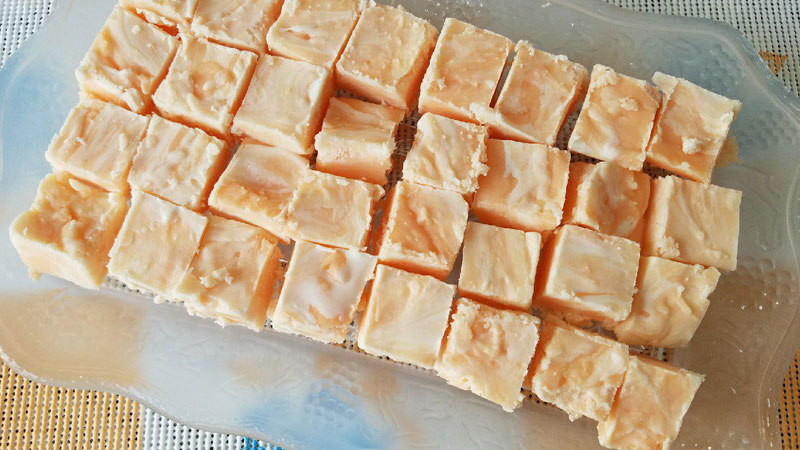 For awhile, when I was very young, my family lived on Eton Street, in Dearborn, Michigan. In the summer, the neighborhood was alive with kids playing games up and down the seemingly never-ending sidewalks: hopscotch, roller skating, jump roping, jacks, Mother-May-I, a childhood heaven. There were so many youngsters that music-streaming, ice cream trucks, crept down the street three times a day, mid-morning, early afternoon, and evening.
Even yet, when in town, my ears still perk up at the sound of music preceding an ice cream man. At such times, I can't help but wonder if he carries my childhood favorite, a scrumptious white and orange, Creamsicle?
This past Easter, in the Taste of Home Magazine, I came across a recipe for Orange Marble Fudge, and guess what? It tastes a lot like a Creamsicle, but unlike the old, icy treat, it doesn't drip on the blouse my mother so carefully ironed.
The fudge is very sweet, so if you make it, I suggest cutting into small-sized pieces, perhaps an inch square. Have you noticed? It seems as though I lean toward orange flavored foods? That's a surprise to me.
Well, time to go, I'm getting hungry. I think there is still one orange left in the fruit bowl. I better grab it before Ron does. Well, okay, okay, if he's in the house, I'll share it with him. Maybe?

| | | |
| --- | --- | --- |
| Marbled Orange Fudge | | Print |
Author:
Courtesy Taste of Home, tasteofhome.com
Ingredients
1& ½ tsp, plus ¾ cup butter, divided
3 cups sugar
¾ cup heavy whipping cream
1 pkg. (10 oz.) white baking chips
1 jar (7 oz.) marshmallow creme
3 tsp. orange extract
12 drops yellow food coloring
5 drops red food coloring
Instructions
Grease a 13 x 9 inch pan with 1 & ½ tsp. butter, set aside
In a heavy saucepan, combine sugar, cream and remaining butter.
Cook and stir over low hear until sugar dissolves.
Bring to a boil; cook and stir 4 minutes.
Remove from heat.
Stir in chips and marshmallow creme until smooth.
Remove 1 cup and set aside.
Add extract and food coloring to remaining mixture; stir until blended.
Pour into prepared pan.
Drop the reserved marshmallow mixture by tablespoonfuls over top.
Swirl with a knife.
Refrigerate until set.
Makes: About 2& ½ pounds.