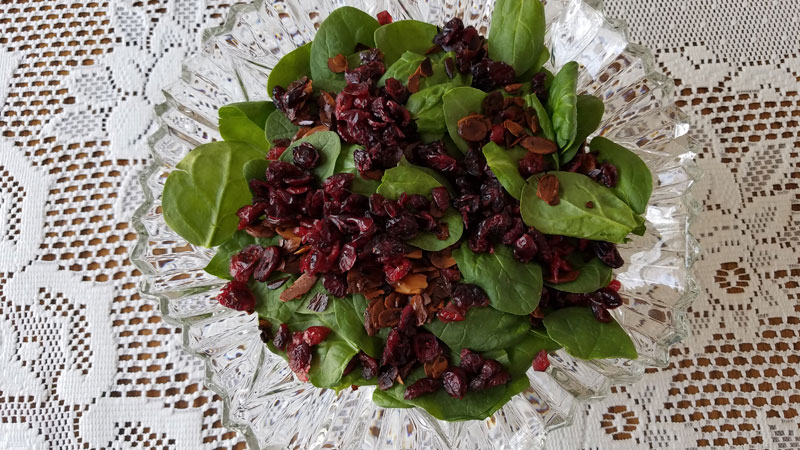 This salad is a delight…and it comes together beautifully with just four toss-together items: toasted almonds, dried cranberries, spinach, and dressing. Yes, there is some prep. I like to make the dressing, toast the almonds, clip off the spinach stems, and measure out the amount of cranberries a day ahead of time. Just before serving, I toss the spinach with only a small about of the the dressing, and lightly arrange the spinach in a glass, salad bowl.  After that, I sprinkle the almonds and cranberries on the top. Lovely.
Susan, a wonderful cook from our small group brought the salad to a surprise 70th birthday party. Somehow, no matter how we fight it, we all seem to be getting older. And yes, my husband and I are the oldest in the group. Well, he's the oldest. The recipe is from the Taste of Home magazine. Susan and I are both fans of the magazine and read it from cover to cover, and save every issue.
Because there will be leftover cranberries and dressing, I toast double the amount of almonds for another such salad at a later time. Then, all that will be needed is fresh spinach. Oh, that is, if you can leave the toasted almonds undisturbed in the pantry. I have heard that some people have trouble with that.
| | | |
| --- | --- | --- |
| Cranberry Spinach Salad | | Print |
Author:
Courtesy Taste of Home, tasteofhome.com
Ingredients
1 tablespoon butter
¾ cup almonds, blanched and slivered
1 pound spinach, rinsed, stems snipped, torn into bite-size pieces
1 cup dried cranberries
Dressing:
2 tablespoons toasted sesame seeds
1 tablespoon poppy seeds
½ cup white sugar
2 teaspoons minced onion
¼ teaspoon paprika
¼ cup white wine vinegar
¼ cup cider vinegar
½ cup vegetable oil
Instructions
In a medium bowl, whisk together dressing ingredients.
Refrigerate.
In a medium saucepan, melt butter over medium heat.
Cook and stir almonds in butter until lightly toasted.
Remove from heat. Let cool.
Just before serving, toss with spinach, almonds, and cranberries.