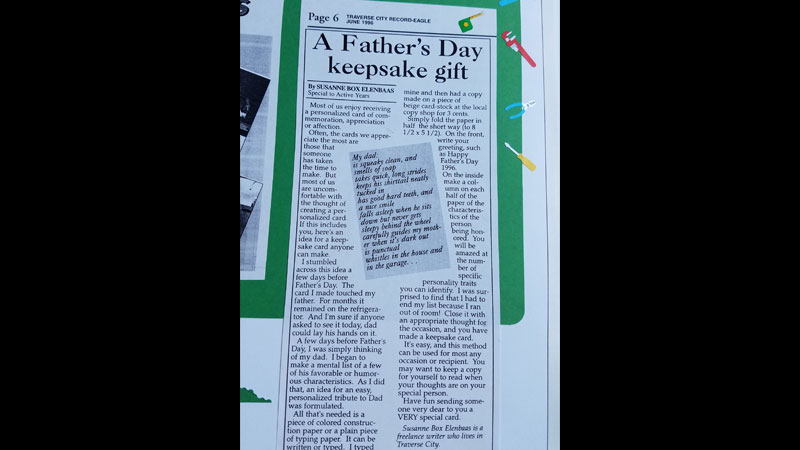 Most of us enjoy receiving a personalized card of commemoration, appreciation or affection.
And often, the cards we cherish, and save, are those that someone has taken the time to make. But the thought of creating a personalized card can leave us wondering, "How?" If this includes you, here's an idea for a keepsake card which anyone can make.
I stumbled across this idea a few days before Father's Day. The card I made touched my father. For months it remained on the refrigerator. And I'm sure if anyone asked to see it today, Dad could lay his hands on it.
As Father's Day drew near, I was doing a lot of thinking about him, and began making a mental list of a few of his favorable or humorous characteristics. As I did, and idea for an easy, personalized tribute was formulated.
All that is needed is a piece of construction paper or a plain piece of type paper. It can be written or typed. I typed mine and then had a copy made on a piece of beige card-stock at the local copy shop for 3 cents.
Simply fold the paper in half the short way making it 8.5 by 5.5 inches. On the front, write your greeting, such as Happy Father's Day 1996.  On the inside make a column on each half of the paper of the characteristics of the person being honored. You will be amazed at the number of specific personality traits you can identify. I was surprised to find that I had to end my list because I ran out or room. Close it with a blessing for the occasion, and you have completed your keepsake card.
It's easy, and this method can be used for most any occasion or recipient. You may want to keep a copy for yourself to read when your thoughts are on you special person.
Have fun sending someone very dear to you a keepsake card.
Happy Father's Day
June 20 1993
My dad:
is squeaky clean, and smells of soap,
takes quick, long strides,
keeps his shirttail neatly tucked in,
has good hard teeth, and a nice smile,
falls asleep when he sits down,
never gets sleepy behind the wheel,
carefully guides Mom thru the dark,
is punctual,
whistles in the house and garage,
is careful – always,
has many tools,
repairs things that others cannot,
will not play poker for money,
is clever,
designs and invents things,
wears pajama bottoms, but not the tops,
is in the garage when I look for him,
likes motorcycles, especially Hondas,
is organized and ready early,
has many maps, memorizes travel routes,
never wears socks with holes in them,
picks up discarded Christmas wrappings,
is always, without fail, a gentleman,
opens doors for, and gives chair to women,
fixes broken zippers,
never raises his voice,
built the town's tallest swing set,
is always home at suppertime,
protects everyone from everything,
locks every door and window,
is fuzzy,
is hardworking and honest,
tenderly removes sliver,
does not take the last piece of anything,
ice skates faster than the rest of us,
likes other people's dogs,
seldom asks for help,
is respected by all who know him,
humbly carries the heaviest bag,
likes ice cream…
butterscotch pie…
and baked beans but…
never gains weight,
always has enough cash in his wallet,
drives a big car,
is generous,
never complains that he is hungry,
likes puzzles with less than 3000 pieces,
eats the most peanut brittle,
made a wonderful kite which never flew,
neatly braided my sister's hair,
loves his family, but not Christmas trees,
makes pancakes when Mom's not home,
doesn't need an edger when he paints,
can make anything, I even thought that –
he dug his basement with a shovel,
sings in the men's choir,
always goes where he is needed,
eats tacos with a fork,
is dependable,
enjoys golfing,
hates candles that are lit,
always has a huge working flashlight,
packs better than anyone,
neatly packages the trash for pickup,
sings, You are My Sunshine, for mother,
was a brave, honorable soldier,
was wounded on Christmas Eve 1944,
is an example of love and loyalty,
is a fine man, a good father,
is a beloved grandfather, and finally
because of lack of space, is a treasured
great-grandfather.
is hardworking and honest,
I thank you for who you are, and all you
have done to help mold my character
and the character of my children. You
will never know how far reaching your
example has been. I love you, but I love
many, but I only have one earthly father.
I love you with the special love reserved
for a father like you.
Happy Father's Day
Love, Susanne
Traverse City Record-Eagle Active Years Magazine 6-6-96