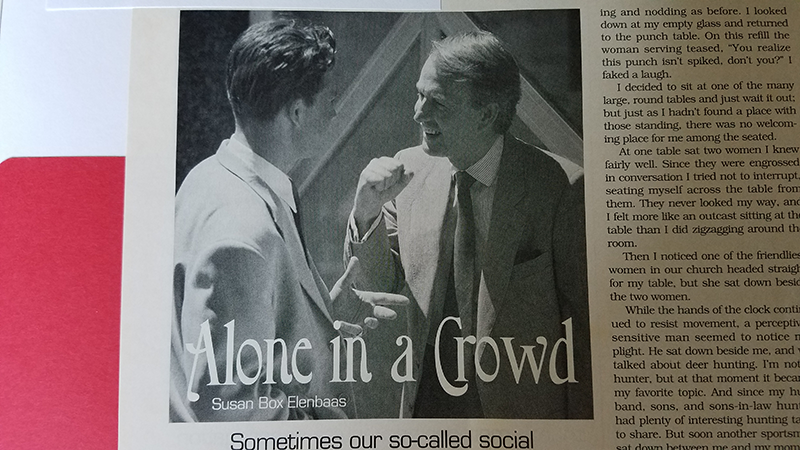 Sometimes our so-called social gatherings are less than social
(The essay submitted was humorously written, and titled Punch Bowl Polka, for I thought the situation was truly humorous. I was surprised to find it edited to the following serious essay.)
Ron, my husband, wasn't feeling well Sunday afternoon, so I went alone to the sixtieth wedding anniversary being held at our church. Ron's been very busy these days, and I've grown accustomed to attending functions by myself.
The anniversary couple sat in the center of the fellowship hall; and many friends, relatives, and members were there to congratulate them. I hung up my coat and greeted a person here and another there, and they acknowledged my presence with a nod, or a slight. Smile. I took a glass of punch from the punch table, and scanned the room for a friendly face. But there was none. I searched out a small cluster of acquaintances and then another, but there was no encouragement to enter the circles of conversation. I meandered over to the anniversary couple to offer my congratulations, but as soon as I had the words out of my mouth, I had to make way for another well-wisher.
Suddenly I was becoming uncomfortable. I had hung up my coat, had some punch, greeted the honored guests. Now what? The reception was planned so that guests could go from reception to evening worship. It was now 4:55, a full hour before worship would begin. I moved around nodding to people here and there, trying not to appear desperate, which I was fast becoming. Negative words began to flood my mind: unwanted, disliked, out of place. I circled the room once more, smiling and nodding as before. I looked down at my empty glass and returned to the punch table. On this refill the woman serving teased, "You realize this punch isn't spiked, don't you? I faked a laugh.
I decided to sit at one of the many large, round tables and just wait it out; but just as I hadn't found a place with those standing, there was no welcoming place for me among the seated. At one table sat two women I knew fairly well. Since they were engrossed in conversation I tried not to interrupt, seating myself across the table from them. They never looked my way, and I felt more like an outcast sitting at the table than I did zigzagging around the room. Then I noticed one of the friendliest women in our church headed straight for my table, but she sat down beside the two woman.
While the hands of the clock continued to resist movement, a perceptive, sensitive man seemed to notice my plight. He sat down beside me, and we talked about deer hunting. I'm not a hunter, but at that moment it became my favorite topic. And since my husband, sons, and sons-in-law hunt, I had plenty of interesting hunting tales to share. But soon another sportsman sat down between me and my momentary rescuer. The man mumbled some polite words to me, but within minutes he turned his broad back to me and spoke directly to his buddy. When he shifted, his back served as sturdy blind, hiding both hunters from view.
There I sat alone again – across from the three women, cut off from the two men. It was at that moment that I thought of skipping evening worship and going home. I could grab my coat, slip out the side door, and escape. NO! I will not leave and fall into such a self-defeating trap. I reminded myself this isolation will pass, and so will this reception. But when I come back next Sunday morning, I'll scan this church for anyone who might be alone, introduce myself, smile warmly, and strike up a conversation. We'll talk about anything, for I've learned the hard way that the topic doesn't matter – even if it means resorting to secondhand deer stories.
4-91  The Church Herald, RCA Magazine – Merged – Copyright 2017 by the Christian Century. Alone in the Crowd by Susanne Box Elenbaas is reprinted by permission from the 10-1996 issue of Christian Century. Cover Carl Meinke