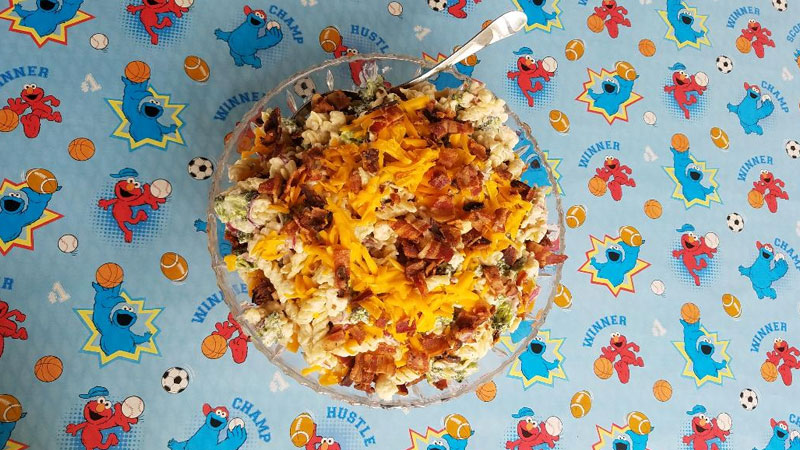 Dear Cook, in the fall of 2007, near Grand Rapids, Ron and I attended my Uncle Leon's 80th birthday party. At the party, I helped myself to some pasta salad from the buffet table.  From there, I made my way to Amy, my uncle's daughter. After taking a few bites of the salad, I said to Amy, "This is the best pasta salad I have ever eaten. Amy smiled and said, "Guess what the name of it is, Best Ever Pasta Salad! I made it." I think you just might like to try it yourself.
For a printed copy, with or without photo, click green dot on left side at the bottom of this page.
If you would like a Monday reminder, and quick link, in your email to next week's post, just sign-in at the secure registry at the top of this page, and click GO. For a private conversation, please write your message on the Contact page found at the right on the Home Page.

| | | |
| --- | --- | --- |
| Best Ever Pasta Salad | | Print |
This salad must be made a day ahead. First: wash and cut the broccoli and cauliflower into tiny trees, and let air dry or wrap in paper towel and lightly press to dry. Air dry is best.
Ingredients
16 oz. spiral pasta - cooked and cooled
1 broccoli head cut fine - like tiny, little trees - 6 cups
1 cauliflower head - cut fine, tiny trees, - 6 cups
1 red onion
********
1 can sweetened condensed milk
2 cups real mayonnaise
⅓ cup sugar
½ cup white vinegar
********
¼ cup Parmesan cheese
1 lb. bacon (browned and crumbled)
1 cup block cheddar cheese freshly shredded (fine) is best.
Instructions
Cook pasta and pat dry with paper towel.
Mix pasta, broccoli, cauliflower, and onion.
In another bowl mix next 5 ingredients thoroughly and pour over pasta.
Mix well, but gently.
Cover and refrigerate overnight.
Before serving add shredded cheese and top with bacon.