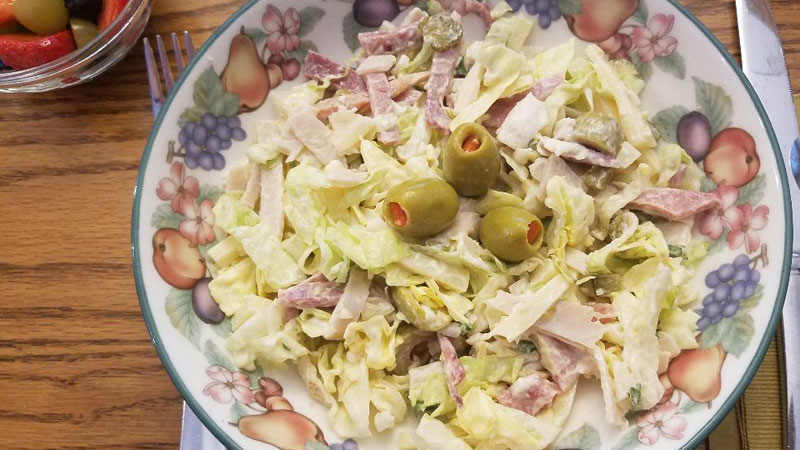 New Recipe – Dear Cook, my cousin who lives downstate commented on a salad recipe which was popular at the old Hudson's Department Store in downtown Detroit. That brought back memories, so I just had to try it.
For when I was young, while my family still lived in Dearborn, my parents took my siblings and me there every Christmas to see Santa. It was such an exciting experience! It began by entering a huge igloo, once inside we stepped into a sleigh which quickly followed a curved track where, on the other side, Santa was "Ho, Ho-ing," and waiting to take our requests. AND then, and THEN, the next stop took us to an elevator and HUDSON'S TOY FLOOR …a young child's dream! Nothing about the experience was a disappointment. And I found that neither was Hudson's once famous salad!
For a printed copy, with or without photo, click green dot on left side at the bottom of this page.
If you would like a Monday reminder, and quick link, in your email to next week's post, just sign-in at the secure registry at the top of this page, and click GO. For a private conversation, please write your message on the Contact page found at the right on the Home Page.

| | | |
| --- | --- | --- |
| Hudson's Maurice Salad | | Print |
Ingredients
MAURICE SALAD DRESSING:
2 teaspoons white vinegar
1 & ½ teaspoon lemon juice
1 & ½ teaspoon onion juice - made by pressing chopped onion.
1 & ½ teaspoon sugar
1 & ½ teaspoon Dijon mustard
¼ teaspoon dry mustard
1 cup mayonnaise
2 tablespoons fresh parsley - chopped
1 hard boiled egg - very finely diced
salt to taste - (It seemed that the salt was not necessary.)
SALAD INGREDIENTS:
14 oz. ham, cut into strips (I used deli ham and turkey.)
14 oz. turkey breast, cut into strips
14 oz. Swiss cheese, cut into strips
½ cup, slivered, sweet gherkin pickles
1 head Iceberg lettuce, shredded
12-16 pimento stuffed green olives
Instructions
Combine the first 6 dressing ingredients and stir to dissolve the sugar.
Add remaining dressing ingredients and mix well.
Combine the ham, turkey, cheese and pickles together in a large bowl.
Toss together with the dressing. (I only used part of the dressing. My family does not like an abundance of dressing. I found that the leftover dressing makes delicious deviled eggs.)
Divide the lettuce among the plates, and top with salad. (I mixed the lettuce and ingredients together, and was pleased with it.)
Garnish each plate with 2 whole olives. (Serves 6 to 8.)
I made a half a recipe. It made four good size servings.