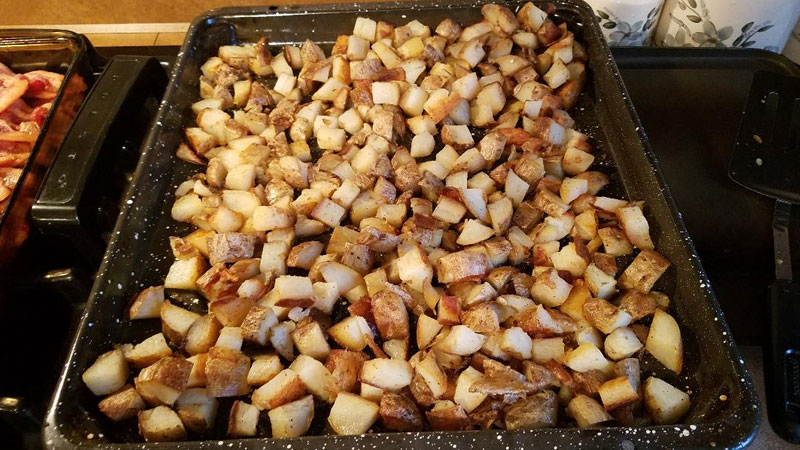 Dear Cook, my favorite potatoes, other than mashed potatoes and gravy, are thinly sliced potatoes, fried in bacon fat* with onions until edges are crispy. This cannot be done ahead of time, and for a crowd, it seems impossible to do. For most attempts to fry up large amounts of thinly, sliced potatoes, for me anyway, comes out soggy. Yuck!
So, for a recent Sunday brunch I tried an entirely different method, and was nearly satisfied with the results. The only change I'd make is to cut the potatoes a bit larger than shown.
I started by baking the potatoes, but I parted from my life long practice of wrapping them in foil. A few weeks ago, I watched a video that advised against it. It suggested that potatoes bake better without the foil, and that wrapping with foil was a restaurant effort to keep the potatoes warm. So, for our last 'bakers,' I poured olive oil in a shallow bowl, rolled my roughly scrubbed spuds in the oil, put them on a cookie sheet, poked them many times with a fork, and baked them at 350 for 90 minutes. Perfect.
After slicing the potatoes, I melted a third of a cup of bacon fat in a large cast-iron, fry pan, and added diced onions to brown. Once browned, I added more bacon fat to melt, turned the heat off, and spooned in the potatoes to evenly coat. Once coated, I heavily salted and peppered them. With potatoes thoroughly seasoned, I placed them in a shallow baking pan. After cooling, I covered and refrigerated them until the next morning. And hour, or less, before the brunch, I reheated them at 350 until somewhat browned. Serve with ketchup and sour cream. Wonderful!
*Bacon fat – I save every drip of bacon fat that I can. It keeps well. If need be, I fry up bacon for the fat, and freeze the bacon for later use. Adding broken pieces of bacon to the potatoes works well too, that is, if you are not feeding a sweet granddaughter who is a vegetarian.
For a printed copy, with or without photo, click green dot on left side at the bottom of this page.
If you would like a Monday reminder, and quick link, in your email to next week's post, just sign-in at the secure registry at the top of this page, and click GO. For a private conversation, please write your message on the Contact page found at the right on the Home page.

Ingredients
Baking potatoes
Bacon fat
Onions
Salt and pepper
Ketchup
Sour cream
Instructions
Bake potatoes.
Dice or slice potatoes.
Brown onions in bacon fat.
Coat potatoes in onions and bacon fat.
Salt and pepper.
Place in shallow baking dish, and cool.
Cover and refrigerate.
Reheat, uncovered, the next day, at 350 until browned.
Serve with ketchup and sour cream.