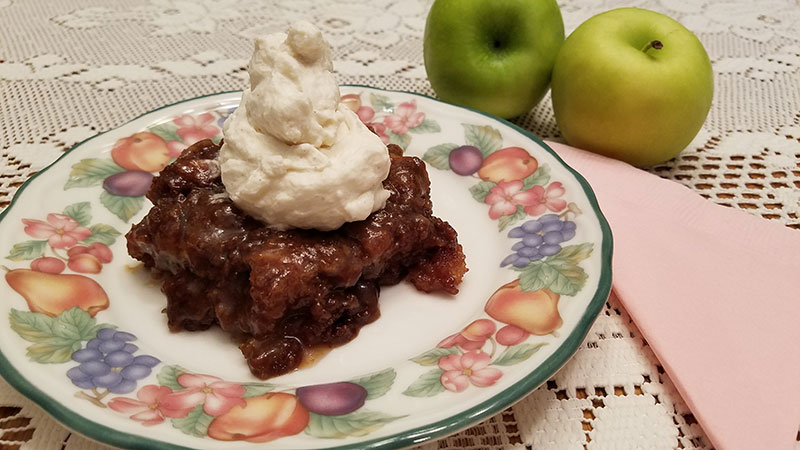 Dear Cook, this recipe came from my father's (Myrell Box) Aunt Marie (Uncle Hardy) from southern Indiana. She would only made this cake in the spring with early Transparent apples that were still green. They turn yellow when ripe. Now, I have never had such apples. So, I use Granny Smith, Northern Spy, or Cortland, and I think that the cake could not be anymore delicious, but then, I haven't eaten Aunt Marie's.
WARNING: This cake always sunk in the middle until I used an insulated pan, and baked it at 325 for 65 to 70 minutes. Perfect! Well worth the purchase of a special pan. The cake does need to sit for hours to allow the sauce to soak into the cake.
For a printed copy, with or without photo, click green dot on left side at the bottom of this page.
If you would like a Monday reminder, and quick link, in your email to next week's post, just sign-in at the secure registry at the top of this page, and click GO. For a private conversation, please write your message on the Contact page found at the right on Home page.

Cook time:
Total time:
This cake is beyond delicious! From the oven, after cutting it into serving pieces, you pour a sweet sauce over it and let it rest. Heavenly.
Ingredients
4 cups finely chopped, skinned apples, room temperature*
2 cups sugar
3 t. cinnamon
2 cups flour
2 t. soda
2 eggs slightly beaten
½ cups pecans
Sauce:
1 cup brown sugar
1 cup white sugar
4 tablespoons flour
2 cups water
1 stick or ½ cup real butter
1 tablespoon vanilla
Instructions
Mix apples with sugar.
Let set a few minutes.
Add rest of the ingredients.
Spread into greased 9 X 13.
Bake at 350 for 40 to 45 minutes. (My method - insulated pan, 325 for 65 to 70 minutes.)
While baking, make sauce:
Combine sugars, flour and water.
Boil until clear. (Until the sugar is well dissolved, and takes on a smooth appearance. Two or three minutes maybe??)
Remove from burner and add I stick butter and 1 tablespoon vanilla.
Stir until the butter melts.
After the cake has rested for 15 to 20 minutes, cut into 15 pieces.
Pour sauce over the cake while hot.
Let the cake sit for 5 hours or overnight.
*About five medium apples. I've used Granny Smith or Spies, but would like to get some green Transparent.