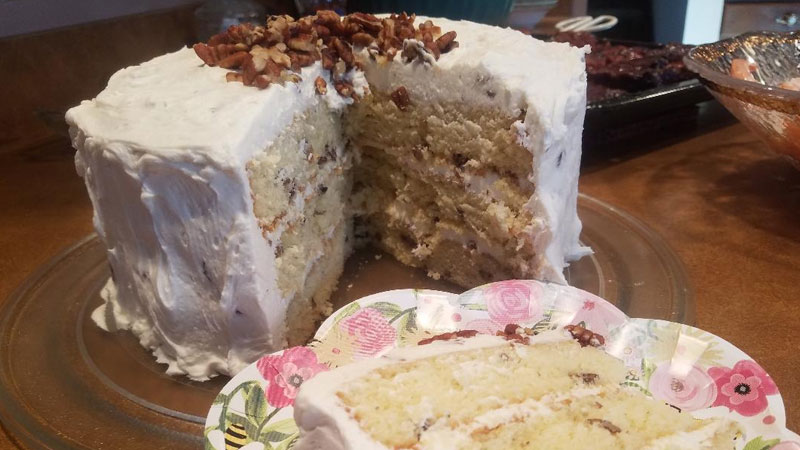 Dear Cook, it is no wonder that the minute I saw this recipe in the Taste of Home Magazine I wanted to make it. My favorite flavor of ice cream is butter pecan. The cake was not a disappointment, and I know good butter pecan. Oh yes I do. For we live just two-plus-miles from Moomer's Ice Cream Shop, the one voted America's Best Ice Cream by Good Morning America in 2008. Sometimes when ordering a Tin Roof Sundae, I ask that it be made with butter pecan ice cream. Yeah, just like this cake, it's really good.
FYI: You might like to toast extra pecans, a heaping 1/3 cup, to use for decorating the top of the cake.  I like to just cover the very center, 3 to 4 inches. When it comes to pleasing guests, presentation is nearly as important as taste, but not quite.
For a printed copy, with or without photo, click green dot on left side at the bottom of this page.
If you would like a Monday reminder, and quick link, in your email to next week's post, just sign-in at the secure registry at the top of this page, and click GO. For a private conversation, please write your message on the Contact page found at the right on the Home page.

Author:
Courtesy of Taste of Home, tasteofhome.com
Ingredients
2 & ⅔ cups chopped pecans
1 & ¼ cups butter, softened, divided
2 cups sugar
4 large eggs, room temperature
2 teaspoons vanilla extract
3 cups all-purpose flour
2 teaspoons baking powder
½ teaspoon salt
1 cup WHOLE milk
FROSTING:
1 cup butter, softened (do not microwave)
8 to 8 & ½ cups confectioners' sugar
1 can (5 ounces) evaporated milk
2 teaspoons vanilla extract
Instructions
Directions:
Place pecans and ¼ cup butter in a baking pan.
Bake at 350 for 10-15 minutes or until toasted, stirring frequently. Set aside.
In a large bowl, cream sugar and remaining butter until light and fluffy.
Add 1 egg at a time, beating well after each addition.
Stir in vanilla.
Combine the flour, baking powder and salt.
Add to the creamed mixture alternately with milk.
Beat well after each addition.
Stir in 1 & ⅓ cups of toasted pecans.
Pour into 3 greased and floured 9-inch round baking pans.
Bake at 350 for 25 to 30 minutes or until a toothpick inserted comes out clean.
Cool for 10 minutes before removing from pans to wire racks to cool completely.
FROSTING:
Cream butter and confectioners' sugar in a large bowl.
Add milk and vanilla.
Beat until smooth.
Stir in remaining toasted pecans.
Spread frosting between layers and over top and sides of cake.
(I used an extra heaping ⅓ cup of pecans to sprinkle on center top of the cake, maybe a 4-inch circle.)