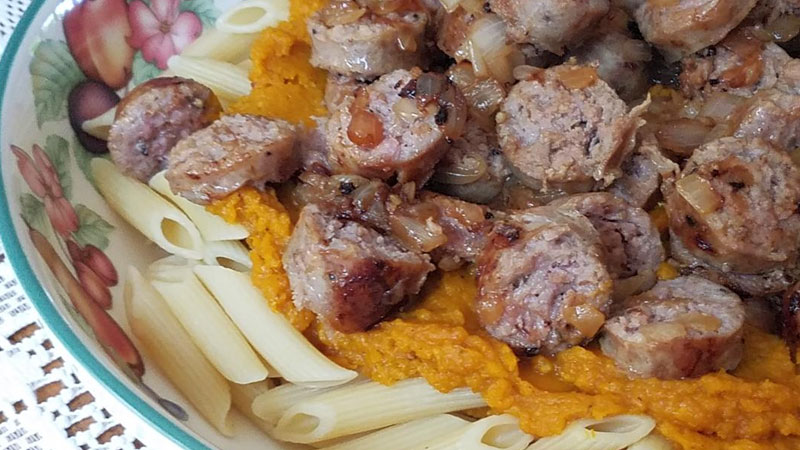 Dear Cook, Ron, my husband, found this recipe in a Taste of Home Magazine. It looked very interesting to us…pasta, Italian sausage and winter squash. What was there not to like?
We dined on the front porch where with leaves on the trees, we cannot see another house. Except for the occasional walker or jogger, the porch seemed quite private. We love taking in the wide open sky, and watching a hawk or two in the field. Once Ron had said grace, we dug into the new dish. After every bite, I raved. Out of a range from 1 to 10, I gave the dish a 12. To my surprise, Ron only gave it an 8, but said that he did like it, but not crazily…like me. I consider the dish an excellent company meal.
The second day, instead of reheating it in the oven as I should have, I reheated it in the microwave. The meal I absolutely loved the day before, no longer tasted good to me. The pasta was rubbery, the squash got too thick, and the onions were not as savory. Next time, I will tightly cover it, and reheat it in the oven on low.
The following is a quote form the submitter of this recipe found in the Taste of Home Magazine. "I love using frozen cooked (packaged) winter squash in this recipe because the hard work – peeling, chopping and cooking – is all done for me," Jennifer Roberts.
I cannot comment on store bought squash for we make our own. Every October, Ron and I make a year's supply of winter squash. We pick out twenty or more of the best and biggest of the buttercup squash available at a local farmer's produce stand. For $1.00 each…we leave with what we consider a treasure. My recipe for making, and freezing the squash is included under Recipes. We serve it at all our holiday meals, and sometimes take it to potlucks.
For a printed copy, with or without photo, click green dot on left side at the bottom of this page.
If you would like a Monday reminder, and quick link, in your email to next week's post, just sign-in at the secure registry at the top of this page, and click GO. For a private conversation, please write your message on the Contact page found at the right on the Home page.

| | | |
| --- | --- | --- |
| Sausage & Squash Penne | | Print |
Author:
Courtesy Taste of Home, tasteofhome.com
Ingredients
2 cups uncooked penne pasta
1 package (12 oz.) frozen cooked winter squash (used homemade)
2 Tbsp. olive oil
3 cooked Italian sausage links (4 oz. each), sliced (used l lb.)
1 medium onion, chopped
¼ cup grated Parmesan cheese, (save some for sprinkling top before serving)
¼ tsp salt
¼ tsp dried parsley flakes
¼ tsp. pepper
Instructions
Cook the pasta and squash according to package directions.
Meanwhile, in a large skillet, heat oil over medium heat.
Add the sausage and onion.
Cook and stir until sausage is browned and onion is tender.
Keep warm.
In a small bowl, mix the cooked squash, cheese, salt, parsley and pepper until blended.
Drain pasta, transfer to a serving plate.
Spoon squash mixture over pasta.
Top with sausage mixture.
If desired, sprinkle with additional Parmesan cheese and parsley.