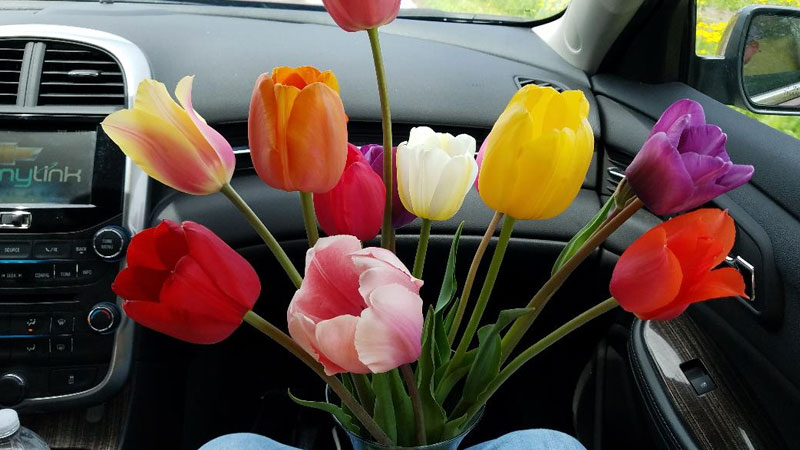 – Monday Muse –
Dear One, with Ron at the wheel, and me holding onto a vase filled with twelve tulips, I mentioned how much fun it was to pick them. And as I did, the strangest thing happened, I giggled…like a child…like a baby. I said, "Did you hear that? I just giggled."
We had just left Virginia Coulter's self-serve, pick-a-bouquet business…only 50 cents a bloom! Virginia had a half-acre of flowers planted, and that morning her tulips were in bloom. We picked a dozen different colored beauties. When we weren't marveling at the array of colors, we were taking in the sight of West Bay in the distance. No, it wasn't heaven, but it was close.
Until that morning I did not know that a giggle was not a laugh. Now those who write dictionaries may disagree, but they will not change my opinion. A laugh seems to come from deep in one's torso, but not a giggle. It comes from…from…pure joy, a joy from one's heart. You may not find that in the dictionary either, but it matters not – to me…for I have, as an adult…giggled. Not once, but three times.
It happened a week ago. Each time, within a period of about twenty minutes, when I mentioned again how much fun it had been to pick the tulips – giggles just bubbled up. Apparently, pure delight brings forth giggles.
If you haven't, as an adult giggled, and I doubt that you have, I hope that you will. I hope that 'certain something' that touches a joy particular to your heart will cause a giggle to bubble up, and bring to your face a smile as innocent as a child. For until now, I thought that giggles were only for the very young. It has made me think that there may be a great deal of giggling in Heaven. For that will be a place of innocence and joy. I believe that, and no dictionary will change my mind on that either. Oh, please do not get the idea that I do not appreciate dictionaries – for I do. I wear them out, and buy new.
"These things I have spoken to you, that My joy may remain
in you, and that your joy may be full." John 15:11
Blessings,
Susanne
For a printed copy, with or without photo, click green dot on left side at the bottom of this page.
If you would like a Monday reminder, and quick link, in your email to next week's post, just sign-in at the secure registry at the top of this page, and click GO. For a private conversation, please write your message on the Contact page found at the right on the Home page.