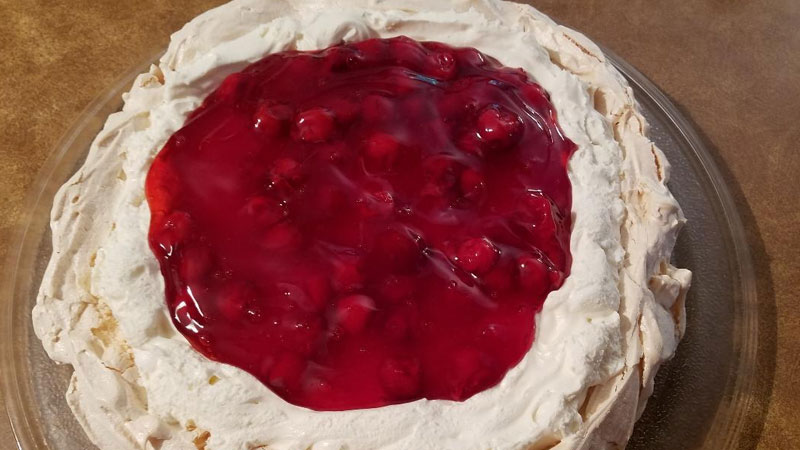 First things first, the picture shown above should have two cups of halved strawberries mixed in with the Thank You Cherry Pie Filling. Ron thought that the out-of-season strawberries tasted like cardboard, so I did not add them. I guess cardboard doesn't taste very good. I wouldn't know. If you look carefully, you will see that the dessert has three layers, a meringue crust, a white fluffy filling, and obviously a cherry (strawberry) topping.
You may already know that I like to try new recipes. Well, way back in the late 60's, I tried an unusual new dessert, one which has become an old favorite. Our fourth child was only three when he expressed his delight with what he called…Tarry Berry on da Toud. It became his birthday dessert. Now years later, his eyes still light up when he sees it.
At first reading, the dessert appears to be time consuming, and perhaps difficult to make, but it really isn't. I make the shell a day ahead. It is very easy and fun to make. That day, or the next, I fill the shell with a delicious whipped cream, cream cheese, and miniature marshmallow mixture, and refrigerate it. The filling must rest in the shell overnight. I cover the filling with plastic wrap, but leave the meringue uncovered. This keeps the crust from getting rubbery. The following day, before company arrives, I prepare the topping so that it is ready to add to the dessert just before serving.
One last thing, this dessert is one that guests usually have room for – even after a big meal.
For a printed copy, with or without photo, click green dot on left side at the bottom of this page.
If you would like a Monday reminder, and quick link, in your email to next week's post, just sign-in at the secure registry at the top of this page, and click GO. For a private conversation, please write your message on the Contact page found at the right on the Home page.

| | | |
| --- | --- | --- |
| Cherry Berries on a Cloud | | Print |
Author:
Betty Crocker Cookbook
Ingredients
MERINGUE SHELL:
heavy brown paper, (I use a paper grocery bag.)
3 egg whites, room temperature, if small, use 4
¼ t. cream of tartar
¾ cup sugar
FILLING:
1 package(3 oz.) cream cheese, softened
½ cup sugar
½ t. vanilla
1 cup chilled whipping cream
1 cup miniature marshmallows
CHERRY-STRAWBERRY TOPPING:
1 lb. 5 oz. can Thank You Cherry Pie Filling
2 cups strawberries, halved
1 t. lemon juice.
Instructions
Heat oven to 275 degrees.
Cover baking sheet with heavy brown paper.
I use a paper grocery sack. Can use baking sheets.
Draw out a 9-inch circle.
Beat egg whites and cream of tartar until foamy.
Beat in sugar, 1 tablespoons at a time.
Continue beating until stiff and glossy.
Do not under or over beat.
On paper, shape meringue into 9-inch circle.
Build up sides, maybe 1 & ¾ inches.
Bake 1 & ½ hours.
Then WITHOUT opening the oven turn oven off.
Leave the meringue in oven for 1 more hour.
Remove from oven; cool meringue away from draft.
With a thin metal pancake flipper, carefully loosen meringue from paper.
Place on TOTALLY flat serving dish.
Do not cover.
In CHILLED, CLEAN bowl, beat whip cream until stiff.
In a different bowl, blend cream cheese, sugar and vanilla.
Gently fold whipped cream and cream cheese mixture together.
Very gently pile into shell…meringue is fragile.
Cover only the filling. Chill at least 12 hours.
Just before serving, top with fruit mixture.
Cut into 8 or 10 wedges.
FOR TOPPING - mix pie filling, and lemon juice together.
Add strawberries, and refrigerate until time to serve.