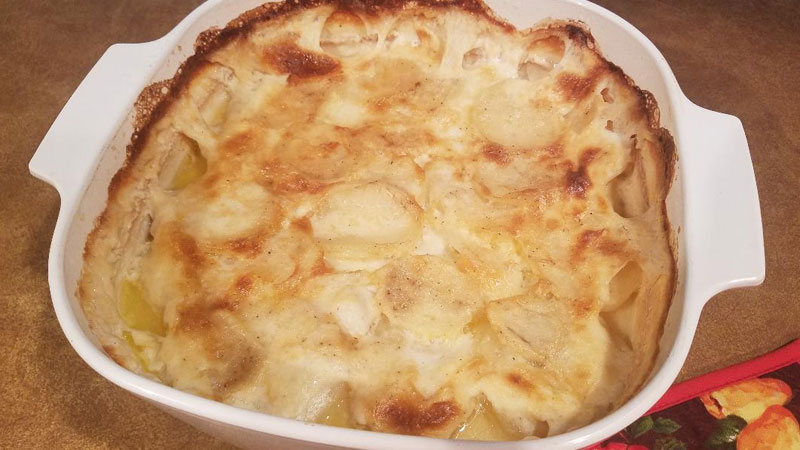 Making these potatoes is so convenient, and the ingredients are usually on hand, but few of today's cooks make them. I'm sure this is because our mothers just threw the dish together without ever thinking that we might need a recipe.
A century ago, it seems, when we still paid for our long distance, landline calls by the minute, Mom walked me through the potato-making process. Today I still make them without measurement…the old way of cooking…a little bit of this and a little bit of that. It works every time. Sure, sometimes the sauce turns stiff, sometimes its runny, but it's tasty either way. That is IF there is enough salt and pepper. No worry, you can always add it at the table. I can tell you this. I have never thrown a scrap of scalloped potatoes away, or fed them to a dog.
So, now I will do my best to record a recipe from the process with…a little bit of this and a little bit of that. Have fun making them, and don't forget the butter…real butter. Oh, one more thing. If runny, let them set for about fifteen minutes before serving. It gives them a chance to set up. If they are stiff, serve them right away. Pretend that they turned out just perfect…serving a new dish sometime requires a bit of salesmanship. "Dinner's ready! Come see what I have made for you!"
For a printed copy, with or without photo, click green dot on left side at the bottom of this page.
If you would like a Monday reminder, and quick link, in your email to next week's post, just sign-in at the secure registry at the top of this page, and click GO. For a private conversation, please write your message on the Contact page found at the right on the Home page.

Ingredients
9 to 10 potatoes, thinly sliced, divide between layers
2 medium onions, thinly sliced, divide between layers
1 cup flour, divide between layers
salt and pepper, sprinkle on each layer
8 tablespoons butter, divide between layers
6 cups, more or less, warm whole milk to nicely cover,
Instructions
Grease deep, 4 quart baking dish.
Spread dish with layer of potatoes.
Place ¼ of sliced onions evenly over potatoes.
Sprinkle with salt and pepper.
With spoon, sprinkle flour evenly over the top.
Dot with pieces of butter = 2 tablespoons.
Repeat 3 times.
Pour warm milk over to cover.
Make sure mixture is 1 to 1.5 inches from top of dish.
If too full, it will bubble over, burn, make a mess of the oven, and stink.
Bake at 350 for 1.5 hours or more, until done.
With fork check potatoes.
The fork should easily go through the potatoes.