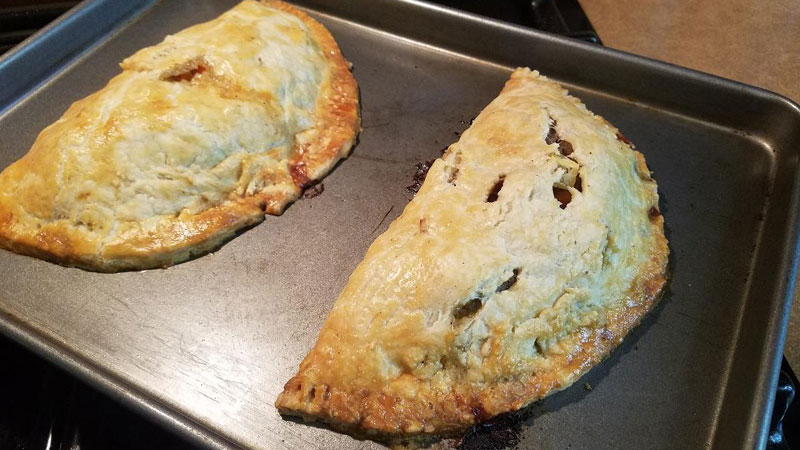 It has been maybe twenty-five years, or more, that Ron and I were invited to the home of a couple who wanted to serve us pasties, the kind made in the Upper Peninsula. The wife was born and raised there, and knew just how to make them. Michigander's all know that the best pasties are made above the Straits of Mackinac.
After that evening with our interesting friends, I planned to try and make them myself. When I did, I found them fun to make! And I was quite pleased with how the crust responded to a simple basting of raw beaten egg. It gave the crust a glaze which seemed to strengthen it. Making the pasties was easy for me, for I happen to have some raw homemade pie crusts  ready in the freezer. In the future, I will likely make my crusts ahead, and freeze them just to keep the process as simple as it was.
I didn't have a recipe so I checked out the Internet and settled on a recipe from Allrecipes.com. If you try it out, I hope you like it as well as we did. But I must tell you this. When I made plans to serve them to company, Ron told me he wasn't sure that they were company fare. I guess he thought that not everyone enjoys the flavor of rutabagas. I had used rutabagas instead of the suggested turnips for that is what our U.P friends used. I was disappointed, and changed my plans for our company menu.
For a printed copy, with or without photo, click green dot on left side at the bottom of this page.
If you would like a Monday reminder, and quick link, in your email to next week's post, just sign-in at the secure registry at the top of this page, and click GO. For a private conversation, please write your message on the Contact page.

Ingredients
Crust:
4 cups bread flour
3 ounces cold lard
2 ounces cold butter
1 & ½ teaspoons salt
⅔ cup ice water, or as needed
Filling:
12 ounces beef skirt steak, cubed
1 cup diced Yukon God potatoes
½ cup diced onion
⅓ cup diced turnip (I use rutabaga)
1 & ½ teaspoons salt
1 teaspoon freshly ground black pepper
1 pinch cayenne pepper
2 tablespoons butter, cut into 8 thin slices
1 large egg, beaten
1 teaspoon water
Instructions
Cut flour, lard, cold butter, and 1 & ½ teaspoons salt together in a bowl.
Blend with a pastry blender until mixture has the consistency of coarse crumbs.
Make a well in the center and pour in ice water.
Mix with a fork until mixture begins to come together.
Use hands to form into a dough ball.
Turn dough out onto a lightly-floured work surface.
Knead until dough is smooth and forms a firm ball, about 2 minutes.
Wrap dough tightly in plastic wrap and refrigerate until chilled, at least 2 hours.
Preheat oven to 350 degrees.
Line a baking sheet with a silicone baking mat.
Stir steak, potatoes, onion, turnip, salt, black pepper, and cayenne pepper together.
Beat egg and I teaspoon water together in a small bowl.
Divide dough into 4 equal rounds and roll each round out to about ⅛-inch thickness.
Make each 8-inches in diameter.
Brush each dough round with egg mixture.
Place ¼ of the steak mixture slightly off-center on each round of dough.
Top steak mixture with 2 slices of butter.
Fold dough over steak filling to form a half moon shape and press edges together to seal.
Trim excess dough from edges of paties.
Transfer pasties to the baking sheet.
Crimp edges with the tines of a fork; poke fork 1 time into the top center of each pasty.
Brush tops with egg mixture.
Bake in the preheated oven until browned and bubbly, about 1 hour.
Cool on a wire rack for 5 to 10 minutes.