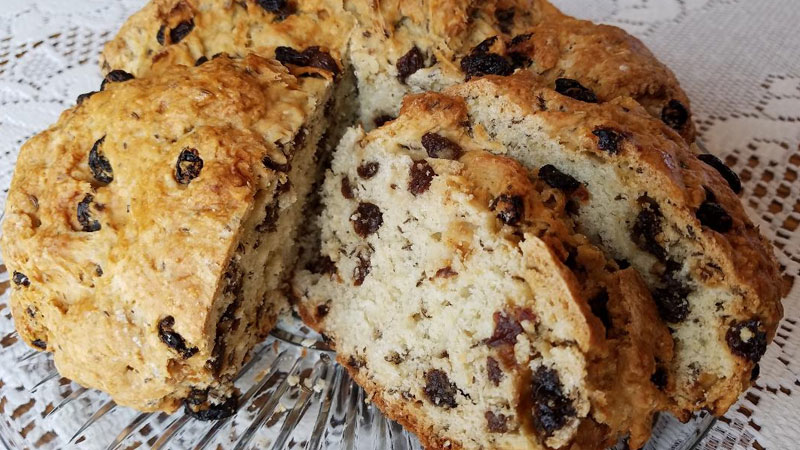 I have not made soda bread for I do not care for it. But I happened to find, stuck between a 20-year-old collection of Taste of Home magazines, a small booklet from 2000. The title was, Recipes We Grew Up With. I had to take a peek. A picture of Irish Soda Bread caught my eye. I made it. It was quick and easy.
Now for the taste…I liked the flavor, but it was dry. I baked it the full hour, will try 55 minutes next time, maybe 50 (ovens do vary). For the suggestion of 3 to 4 tablespoons of caraway seed, I chose four. I really enjoyed the intensity of the caraway flavor!
The bread is crusty, and very dense. For us, Ron and me, it is not a good dinner bread. We consider it excellent for breakfast, a bread to toast, butter, and serve hot. After slicing it, I keep it in the refrigerator freezer, where a few slices can easily be removed for morning meals or midday snacks. I will no doubt make it again as an addition to a quick, small breakfast.  Actually, at my desk right now, I have a slice of it.. Well…there's but one bite left.
Just a reminder – do not handle the dough any more than necessary.
For a printed copy, with or without photo, click green dot on left side at the bottom of this page.
If you would like a Monday reminder, and quick link, in your email to next week's post, just sign-in at the secure registry at the top of this page, and click GO. For a private conversation, please write your message on the Contact page found at the right on the Home page.

Author:
Courtesy Taste of Home, tasteofhome.com
Ingredients
4 cups all-purpose flour
¼ cup sugar
1 teaspoon salt
1 teaspoon baking powder
1 teaspoon baking soda
¼ cup cold butter
3 to 4 tablespoons caraway seed (I use 4.)
2 cups raisins
1 & ⅓ cups buttermilk
1 egg, beaten
milk (to brush over dough ball)
Instructions
In a large bowl, combine flour, sugar, salt, -
baking powder and baking soda.
Cut in butter until mixture resembles coarse meal.
Stir in caraway seed and raisins.
Combine buttermilk and egg.
Stir into dry ingredients just until moistened.
Turn onto a floured surface and knead lightly until smooth.
Shape dough into a ball, and place on a greased baking sheet.
Pat into a 7-inch round loaf.
Cut a 4-inch cross about ¼ inch deep on top.
Brush top with milk.
Bake at 375 for 1 hour or until golden brown.
Yield: 1 loaf.