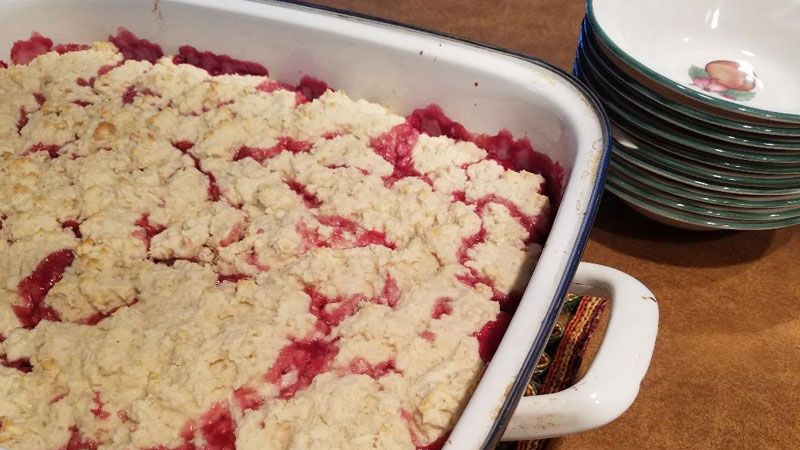 We live in a beautiful cherry land. Briefly, in the spring, Old Mission Peninsula is partially covered with gorgeous cherry blossoms. Sometime in July, the first cherries ready for picking are the plump, sweet ones. Tarts soon follow.
Ron and I have a long standing invitation to pick cherries for free. The owner of the orchard does not know me well. For if he did, he'd know that I love to pick cherries so much, that at a weak moment, I might agree to pay to pick, EVEN if I did NOT get to take the cherries home with me!
Needless to say, we usually have an abundance of cherries in our freezer. When it is my turn to take the snack to our adult Sunday school class, I often settle on a cherry cobbler that feeds about twenty-four, and uses fifteen cups of tarts. I prepare the pie-like filling on Saturday, reheat it on Sunday morning (the filling must be piping hot before adding the dough), top it with sweetened dough from Bisquick baking mix, bake it for ten minutes, and arrive at class with a warm snack. Easy.
Of course, if you are going to make a huge batch, a 9 x 13-inch pan won't do. I have a honey of a baking pan. It's 4-inches deep, 11-inches wide and 15.5-inches long with mega handles.
For the best results, make sure the hot filling is not thick. It must be very juicy. Before putting dollops of dough on top of the filling, dip the tip of your spoon into it. Then let a few drops fall onto a plate. If the filling sits up immediately, stir in ¼ to ½ cup, or more, of water. While the cobbler bakes the dough soaks up liquid. So the filling needs to have enough liquid to come from the oven still juicy, though not thin, and enough to remain somewhat moist when cold.
Cooking or baking is a learning process, a bit like the Christian walk. It takes a lot of practice…and will encounter failures. One never reaches consistent perfection, but the results are worth the effort. For the discerning every failure holds a God honoring lesson.
I believe God likes His children, we are all children to Him – to be well fed…well, not too well fed. There is that gluttony thing…yeah… there is. Oh my. Well, after that thought, if you can, enjoy!
For a printed copy, with or without photo, click green dot on left side at the bottom of this page.
If you would like a Monday reminder, and quick link, in your email to next week's post, just sign-in at the secure registry at the top of this page, and click GO. For a private conversation, please write your message on the Contact page found at the For a printed copy, with or without photo, click green dot on left side at the bottom of this page.

| | | |
| --- | --- | --- |
| Easy Crowd Cherry Cobbler | | Print |
Author:
Betty Crocker / Bisquick Mix
Ingredients
CHERRY PIE FILLING:
15 cups of tart cherries
4 cups sugar
1 cup flour, loosely spooned into cup, leveled
1 teaspoon almond extract
6 tablespoons butter
DOUGH:
6 & ¾ cups Bisquick Pancake and Baking Mix, loosely spooned
6 tablespoons sugar
2 cups whole milk
Instructions
FILLING:
Place cherries in large cooking pot.
On low heat warm cherries, shut off heat.
Stir together sugar and flour.
Mix into cherries.
Turn heat to medium low.
Stir and cook until mixture begins to bubbles.
When slightly thickened, turn off heat.
Mix in butter and extract.
DOUGH:
Heat oven to 450 degrees.
Stir mix, sugar and milk until soft dough forms.
Reheat filling to bubbling hot.
Pour into making pan.
Drop dough by spoonfuls onto cherry filling.
Bake 8 to 10 minutes or until completely baked.*
*With fork lift bottom of center dough. If raw, bake longer.
Serve or cover to keep warm until serving time.