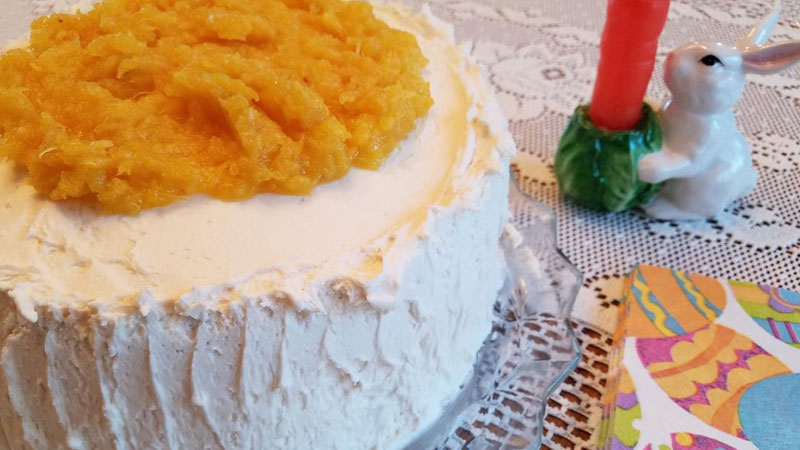 First I must say, don't do what I did. I added yellow food coloring to the pineapple. The pineapple was much more appealing before I added my not-so-special touch. Mother never did that, she was wiser than me. She graduated from high school at the age of fifteen!
Mom made this cake every Easter. It was a white cake, probably a Betty Crocker Cookbook recipe. She baked the layers the day before Easter, and prepared the pineapple filling/topping a day ahead. Easter morning, she whipped up sweetened heavy cream, covered the layers with it, placed thickened pineapple between the layers and the center of the top, and refrigerated it. After church, following a delicious 1:00 dinner, the cake was enjoyed by all. Well, that is all who had room for it. I always did.
I have made only one change to Mother's recipe. I use a cake mix. Normally, I want homemade everything, but I have not yet found a recipe that comes out as light as a good white cake mix. So, perhaps a week in advance, I bake the layers, and freeze them. I find that freezing them tightly in zip-lock freezer bags while they are still slightly warm insures the freshest of taste. On Easter morning I put the cake together while the layers are still frozen. This helps the whipped cream to hold up longer. If there is any cake left on Monday, it is still edible, but the whipped cream is usually watery, and unattractive.
For a printed copy, with or without photo, click green dot on left side at the bottom of this page.
If you would like a Monday reminder, and quick link, in your email to next week's post, just sign-in at the secure registry at the top of this page, and click GO. For a private conversation, please write your message on the Contact page found at the right on the Home page.

Author:
Dorothy Kenyon Box /Susanne Box Elenbaas
Ingredients
Ingredients:
Your favorite white cake mix / oil and eggs required
Sweetened crushed pineapple, 1 to 2 twenty-ounce cans
Heavy whipping cream -16 ounces
Powdered sugar - 6 tablespoons
Vanilla - 1 teaspoon
Instructions
Bake layers according to box directions.
When nearly cool, freeze layers in zip-lock freezer bags.
Day before serving, in small pot, simmer pineapple until thick, but NOT dry.
Refrigerate.
Chill mixing bowl, and beaters.
Just hours before serving, whip heavy cream until almost thick. Add sugar and vanilla and beat until soft peaks form.
Cover first layer with pineapple.
Cover that with whipped cream.
Place second layer on top of first.
Cover top and sides with whipped cream.
Center desired amount of pineapple on top of cake.
Refrigerate until serving.