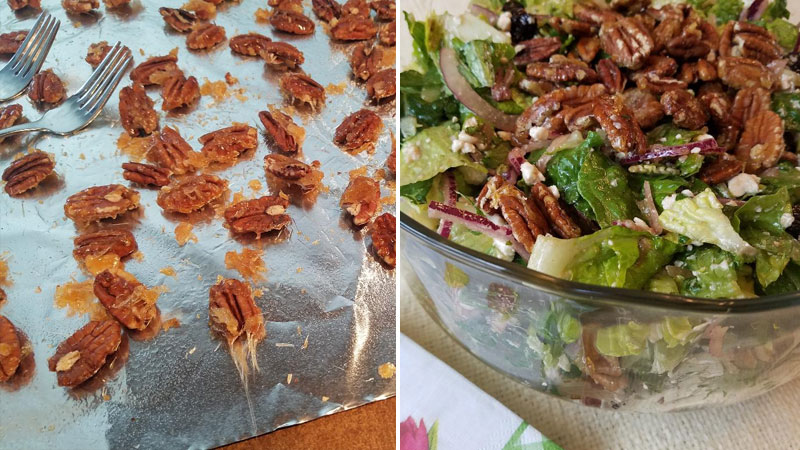 Before I even made this salad, after sugar coating the pecans, I found them irresistible. So when the day came to assemble the salad I had to make more sugary pecans. Thankfully, it didn't take very long.
In September of 2016, Peg May, one of my first friends in Traverse City, brought the salad to our home for a Daily Dozen Ministry Dinner. It was a big hit. When I made the salad for our Small Group Dinner. I doubled it, and there wasn't much left to bring home. So I considered it a hit once more.
The pecans could be made days ahead and kept in a sealed container. It might be wise to try and hide them from yourself – heh, heh, or put them in a difficult place to reach. The recipe called for Feta cheese. I used French Feta, for I had heard that it was milder than the Greek Feta. It was. Also, to make the Romaine lettuce crisp, I soaked it in cold water, spun it dry, and let it set in an opened plastic storage bag in the refrigerator overnight. When cutting the lettuce, I made the pieces small enough to be easily forked.
It has always been difficult to determine the amount needed when a recipe reads – small (red) onion, but now we have the Internet. So I looked up the weights for small, medium and large, and decided that 3 ounces of actual onion was about right. At the last minute, when you are assembling the salad, I would use as little of the dressing as possible. The salad does need to be evenly coated, but lightly.
I hope you find this recipe pleasing. My husband thought it was excellent. But I should tell you – he once made himself what he thought was a hot dog out of a stick of pepperoni. He ate it without realizing that it wasn't a hot dog. When I couldn't find the pepperoni for our pizza, I questioned him about it. I still can hardly believe it!
For a printed copy, with or without photo, click green dot on left side at the bottom of this page.
If you would like a Monday reminder, and quick link, in your email to next week's post, just sign-in at the secure registry at the top of this page, and click GO. For a private conversation, please write your message on the Contact page found at the right on the Home page.

Author:
Received from Peg May
Ingredients
SALAD:
4 ounces Feta cheese, perhaps French Feta
1 head Romaine lettuce,
½ cup dried cherries
1 small red onion to equal 3 ounces, thinly sliced
*PRALINE PECANS:
1 cup pecans, whole
⅓ cup sugar
DRESSING:
Prepare dressing ahead and shake several times.
½ cup salad oil
4 T. raspberry vinegar
½ t. Tabasco sauce
4 T. sugar
Serves 8 - 10
Instructions
*PRALINE PECANS:
Sprinkle ⅓ cup sugar in nonstick pan.
On medium heat slowly let sugar melt, stirring constantly.
Stir until sugar is dissolved.
When the sugar is melted, on lowest heat, add pecans.
Coat evenly.
To avoid sticking, spread on foil sprayed with Pam.
With fingers or forks separate pecans.
Cool, and let dry.
JUST BEFORE SERVING:
Mix Feta, lettuce, cherries, and onion.
Add just enough dressing to lightly coat.
Toss well.
Mix in pecans, reserving some for the top.