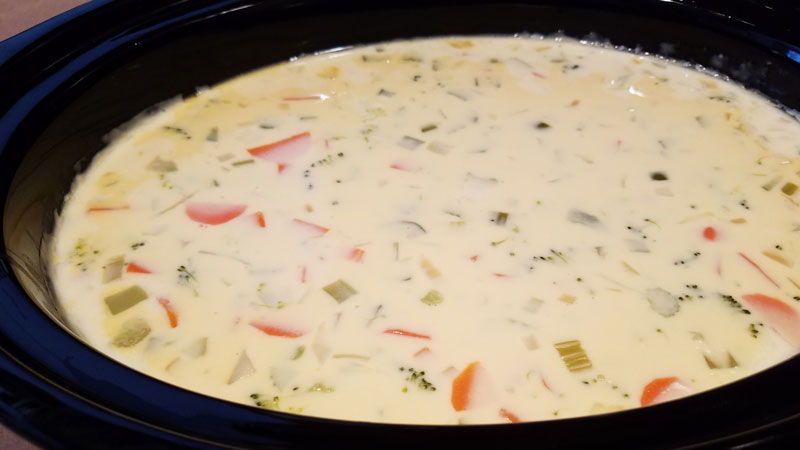 This soup, Broccoli Cheese, is not a favorite of mine. Oh, I do like it. It is good, very good, and it is definitely a favorite of most, for…
Every New Year's Day, (except this year, temporary health issue) here at our home, we have a houseful of family and friends for a day of competition and prizes. We start with a current event quiz, and continue on with board games and cards. On the stove, or in crock pots, are 4 or 5 different kinds of soup…all yummy.  And every year, even though our friends bring a double batch of Broccoli Cheese, it is the first to disappear, thus it is deemed the favorite.
The recipe came from Betty Meyering, a friend of my mother's, but in our family it is known as Mother's recipe, for she made it so often. There are two important things to remember when working with this recipe. While cooking the vegetables, watch them CAREFULLY. Do not let them get mushy. Also, once you have added the milk and cheese do not overheat it. Keep the heat low, and don't heat it longer than necessary. The milk/cheese mixture tends to break down.  Oh, here is a personal tip, which may not seem necessary to you. I only use Pet Milk – even if it means a trip to another grocery store.
For a printed copy, with or without photo, click green dot on left side at the bottom of this page.
If you would like a Monday reminder, and quick link, in your email to next week's post, just sign-in at the secure registry at the top of this page, and click GO. For a private conversation, please write your message on the Contact page found at the right on the Home page.
| | | |
| --- | --- | --- |
| Broccoli Cheese Soup | | Print |
Ingredients
49 oz. chicken broth (6 cups)
2 cups carrots
1 cups celery
1 cup onions
½ cup green pepper
2 cups cubed potatoes
4 cups broccoli floweret's
½ cup flour
2 to 3 cans (12 ounce each) Pet Milk - evaporated canned milk.
16 oz. cheese whiz or Velveta
½ cup flour
Instructions
In the broth simmer together - carrots, celery, onions and green pepper.
Simmer just until the carrots and celery are done, but still firm.
Add potatoes, and broccoli.
They require little cooking, watch carefully. Do not overcook.
Blend four with some of the milk until right consistency. Set aside.
Add milk, 2 cans, and then more if needed.
Do not dilute the canned milk.
Stir in flour/milk mixture.
Add cheese.
Soup will thicken as it stands. If too thick when you reheat it, add more Pet milk.