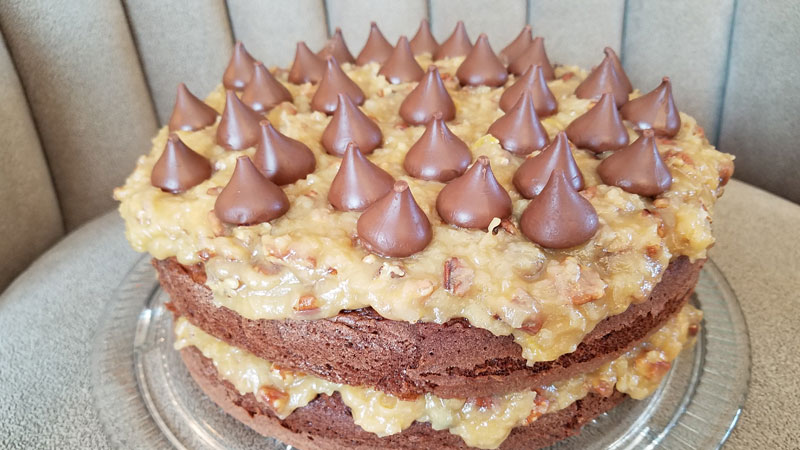 I seem to have to change things up. So, I did it again, and added Hershey Kisses to the top of this German Sweet Chocolate Cake. I wished I hadn't. For the candy hides the beautiful shimmer of the Coconut Pecan Frosting. If I use Kisses again, I will only put, perhaps, three in the middle of the cake. Well, that's not a promise.  Another change I made, I only made two layers, instead of three. Mistake. Three layers is prettier, and provides another delicious layer of frosting. The German Sweet Chocolate, and the rich, sweet, nutty frosting makes this cake what it is…fabulous! If you decide to make this cake, please allow yourself enough time, and enjoy the process. This cake stays moist better than most.
This is another recipe I got from one of the gals, Peg May, in the first club I joined when we moved here to Traverse City, in 1966. I liked her then, and still do. And the amazing thing, she still considers me a friend. I am fortunate. This fall, we celebrated her 80th birthday.
For a printed copy, with or without photo, click green dot on left side at the bottom of this page.

| | | |
| --- | --- | --- |
| German Sweet Chocolate Cake | | Print |
Author:
Received from Peg May
Ingredients
Cake:
1 package, 4 oz. German Sweet Chocolate
½ cup boiling water
1 cup butter, 2 sticks
2 cups sugar
4 eggs, separated
1 t. vanilla
2 cups flour
1 t. baking soda
½ t. salt
1 cup buttermilk
Frosting:
1 & ½ cups evaporated milk
1 & ½ cups sugar
4 egg yolks, slightly beaten
¾ cup butter
1 & ½ t. vanilla
2 cups coconut
1 & ½ cups pecans, chopped
Instructions
Melt chocolate in water, cool.
Beat butter and sugar.
Beat in egg yolks.
Stir vanilla into chocolate.
Mix flour, soda and salt.
Beat into chocolate mixture alternately with buttermilk.
Beat egg whites until stiff peaks form.
Fold into batter.
Pour into three 9 inch layer pans, lined on bottoms with waxed paper.
Bake at 350 degrees for 30 minutes (if using heavy pans 40 minutes)
or until cake springs back when lightly pressed in center.
Cool 15 minutes, and remove from pans.
Finish cooling on racks.
Spread coconut-pecan frosting between layers and over top of cake.
Coconut Pecan Frosting
Combine evaporated milk, sugar, eggs yolks, butter,
and vanilla in saucepan.
Cook and stir over medium heat until thickened.
Remove from heat.
Stir in coconut and pecans.
Cool until thick enough to spread.