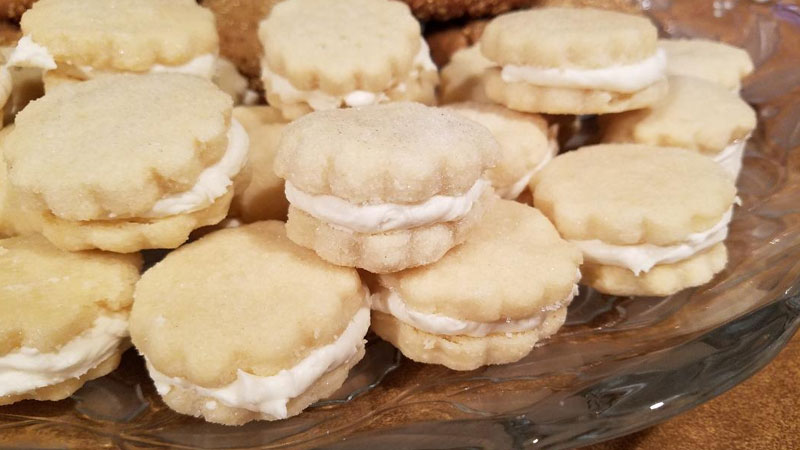 It has been nearly two years since I began posting essays and recipes. And it has taught me something. Our family has far more culinary traditions that I ever would have guessed. These cream wafers are only one of the traditions from a surprisingly long list of examples.
They are two-bite, buttery delights that have a place on at least two of the cookie trays brought in by our girls over Christmas. For this reason, I only make them for occasions other than the holidays. They are a nice addition to almost any gathering, especially nice for that long-winter ladies' High Tea to help overcome cabin fever.
The cookies freeze well, and can be frosted before freezing, or just before serving. For a scrumptious fresh taste, serve the same day they are made, or remove them from the freezer a few hours before serving. The batter will seem far too small, but it does make 5 dozen small cookies. Bake on insulated cookie sheets, and do not over bake…don't let them brown.
Some like to color the frosting. I rarely do, but if I do, I use pale colors…maybe two or three. Pale shades have more epicurean appeal. If made for Valentine's Day, I might frost half the batch white and half bright red. Maybe.
For a printed copy, with or without photo, click green dot on left side at the bottom of this page. If you have any questions, please write to me through Contact found to the right of the Home page.
Enjoy,
Susanne

Author:
Betty Crocker's Cookbook
Ingredients
1 cup soft butter
⅓ cup whipping cream
2 cups all-purpose flour
Granulated sugar
CREAM FILLING
¼ cup soft butter
¾ cup confectioners' sugar
1 teaspoon vanilla
Instructions
Mix thoroughly butter, cream and flour.
Cover and chill.
Heat oven to 375.
Roll out about ⅓ of the dough, ⅛ inch thick on floured surface.
Keep remaining down chilled until ready to roll out.
Cut into 1½-inch circles.
Transfer rounds to waxed paper covered with granulated sugar.
Turn each round so that both side are coated with sugar.
Place on ungreased baking sheet. Prick rounds with fork 4 times.
Bake 7 to 9 minutes or just until set, but not brown; cool.
Put cookies together in pairs with Creamy Filling.
CREAMY FILLING
Cream butter, confectioners' sugar and vanilla until smooth and fluffy.
Optional: tint with few drops of food coloring.
If necessary add few drops of water for spreading.
MAKES 5 dozen cookies.
If you would like a Monday reminder, and quick link, in your email to next week's post, just sign-in at the secure registry at the top of this page, and click GO. For a private conversation, please write your message on the Contact page found at the right on the Home page.