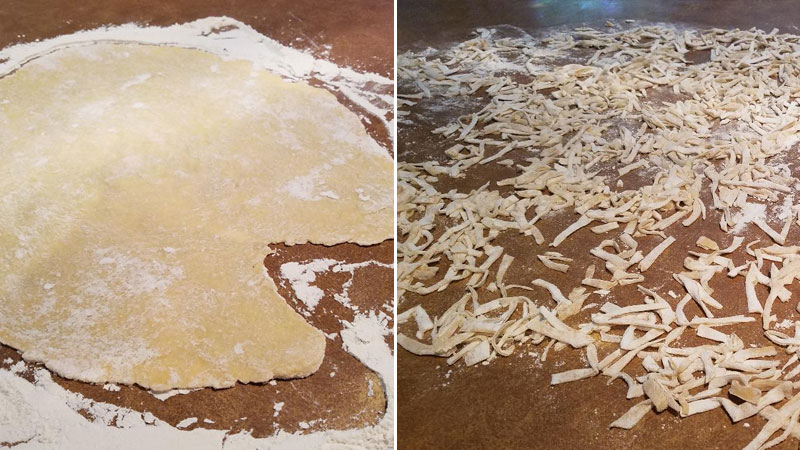 As a kid, I do not know how many times I walked next door into Grandma's kitchen, to find her rolling out a flour chamois. Once it dried enough, the chamois would be rolled up into a cylinder. At one end, she would slice, on the diagonal, thin tender noodles.
Grandma seemed to know everyone's favorite food, and mine was her noodles. So often, when she was fixing them, she gave me some. It is Grandma's noodles, minus the meat, (We have a vegetarian who loves the noodles.) which I serve as a side for our Thanksgiving and Christmas dinners. For those holiday meals I make three batches of noodles and boil them in a gallon of rich, homemade, chicken stock made from stewing two, or three, large chickens. The noodles are a favorite of many. The stock and the noodles are made weeks in advance, frozen separately, and boiled up the day before the holiday. Perfecto!
In between such occasions, I make a simple chicken noodle soup with a rotisserie chicken and one batch of Grandma's noodles, taken still moist from the counter. I am making the soup this week. Ron and I will be taking a meal to a wonderful, ninety-two year old man, who is ever faithful to God, while waiting anxiously to join Him in His Heaven. The gentle German, though he has lived in America since he was a young man, still speaks with an endearing accent. He is a member of our Daily Dozen prayer team which prays by name for the spiritual-growth of everyone who attends our church. He is a true, and mighty, prayer warrior. Oh, the lives that have been encouraged through prayer from the privacy of his beautiful home.
Helpful hint: Whenever you bake chicken, and don't need the fat which collects, freeze it, and use it for making gravy or adding to thin chicken stock. It may seem to small of an amount to bother with, but save it, and save others, and you have something I consider – nearly gold. My reputation is such, that some people give me carcasses that they would have otherwise thrown away!

| | | |
| --- | --- | --- |
| Grandma's Homemade Noodles/Chicken Soup | | Print |
Author:
Alta Kitson Kenyon
Ingredients
GRANDMA'S HOMEMADE NOODLES
2 eggs, beaten
1 cup flour
¼ teaspoon salt
Five & ½ cups rich beef or chicken stock
CHICKEN NOODLE SOUP
One batch of Grandma's Egg Noodles, fresh or frozen
Meat from rotisserie chicken, cut in soup size pieces
Eight cups chicken stock made from rotisserie carcass
One-half cup of ¼ inch carrot pieces
One-half cup of ¼ inch celery pieces
Salt and pepper to taste
Instructions
GRANDMA'S HOMEMADE NOODLES
Mix first three ingredients with fork until moist, tiny lumps will roll out.
Roll out on well floured surface making a thin, flour chamois.
While rolling out, if necessary add more flour to surface.
Let stand just until dry enough to be rolled up.
May need to dust each side with flour.
Roll up. Cut short, thin noodles on the diagonal.
Return separated noodles to the floured surface to dry.
When dry cook, or freeze. Use frozen noodles directly from freezer.
To cook: add noodles to boiling stock, stirring constantly until done.
Do not overcook. Check often. May take 15 to 20 minutes or less.
Serve warm or refrigerate. Sitting enhances flavor.
CHICKEN NOODLE SOUP
Cut off the meat from a rotisserie chicken into soup size pieces.
Refrigerate the meat.
Place all scraps and carcass in a big pot, cover with water.
Uncovered, heat on low, just short of simmer, two to three hours.
Cut celery and carrots fine, and set aside.
When chicken stock is ready, drain into large pot.
Add salt and pepper to taste.
Bring to boil. Stirring constantly, add noodles.
Boil until noodles are done. May take 15 to 20 minutes, or less.
When noodles are minutes from being done add vegetables.
Shut heat off. Add meat.
Serve or refrigerate overnight.