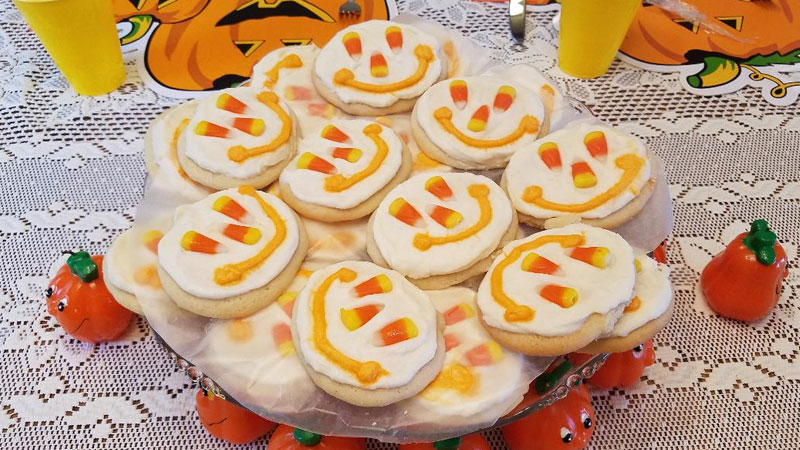 For years we have prepared an early dinner for the family to eat fast and furiously before the grandchildren don their costumes and head out for Trick-or-Treating. The evening is not the time to linger over some fancy dessert – no certainly not. There is candy to be had. The dessert needs to be a pickup-and-go type, or one to be eaten after all the neighbors have turned out their porch lights.
The more time spent eating at Grandpa and Grandma's means less bounty in the bags. So I make the same dessert every year… decorated sugar cookies. And even though they can be eaten on the run, they are almost ignored. And when the disheveled bunch returns, there is still little interest in dessert. For the kids are anticipating dumping out all their bounty in piles across the living room carpet. It is then that the fast trade for favorite candy begins, while some adults wait patiently to pocket the rejects. But, before the evening ends, some of the cookies make it into the departing candy bags.
As always, to keep sugar cookies soft and fresh tasting, they are decorated as soon as they cool, and then stored in the freezer until two hours before serving. Yes, even if they are to be served the next day. Day old sugar cookies are like day old bakery goods, better the first day. BUT when sugar cookies are kept in the freezer, they come close to retaining that wonderful same-day freshness.

| | | |
| --- | --- | --- |
| Simple Halloween Cookies | | Print |
Author:
Betty Crocker Traditional Sugar Cookies
Ingredients
¾ cup shortening (part butter, softened)
1 cup sugar
2 eggs
1 teaspoon vanilla
2 & ½ cups all-purpose flour
1 teaspoon baking powder
1 teaspoon salt
FROSTING:
⅓ cup soft butter
3 cups confectioners' sugar
1 & ½ teaspoons vanilla
About 2 tablespoons milk
Drop or two of orange food coloring
Candy Corn
Instructions
Mix thoroughly shortening, sugar, eggs and flavoring.
Blend in flour, baking powder and salt.
Cover; chill at least 1 hour. ( I chill it 3 hours or more.)
Heat oven to 400 degrees.
Roll dough ⅛ inch thick (I make mine thicker.) on lightly floured surface.
Cut into desired shapes. Place on ungreased baking sheet.
Bake 6 to 8 minutes or until very light brown.
(I remove my cookies from the oven as soon as one begins to show a
hint of brown, and let them finish baking on my insulated cookie sheets.
FROSTING:
Blend butter and sugar.
Stir in vanilla and milk.
Beat until frosting is smooth and of spreading consistency.
Frost cookies with white frosting.
Color small amount of frosting orange.
Place orange frosting in plastic sandwich bag, and cut tiny opening in corner.
Make smile, and add Candy Corn for eyes and nose.