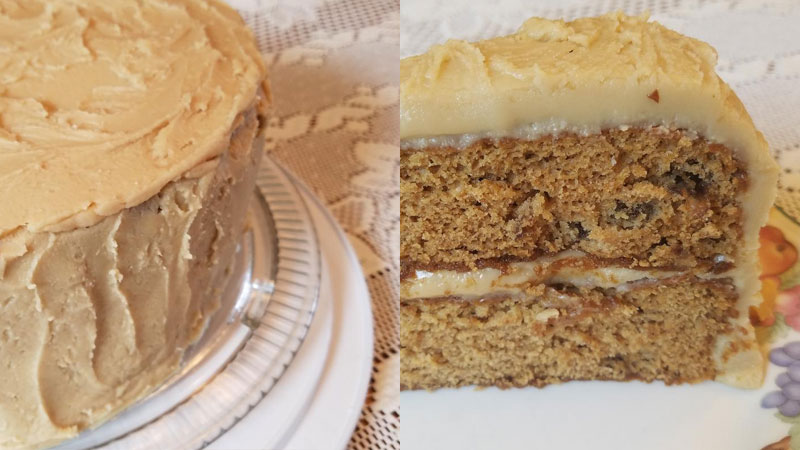 Oh my, do you like sweet, really sweet, sugary fudge sweet? Well if so, the frosting on this cake is for you. My husband says with nearly every bite, "This cake is so good." Yes, it is good, but oh my…so so sweet.
Both cake and frosting recipes are from my Grandma Kenyon's little cookbook. The cake itself is somewhat heavy, which makes it different than box cakes. Nice. Though it is not called a spice cake, it has more spices in it than the spice cake recipe in Grandma's book…figure that one out?
When using the Penuche Frosting Grandma always spread it over a loaf cake. It is easy to figure out why. Frosting a layer cake with it is tricky. First, you need a double batch of frosting. Then you must make sure the warm liquid is the right temperature before adding the powdered sugar, and even then it can be too warm or not warm enough. Yes, tricky. If too thick a tiny bit of water can be added.
But…I got it into my head that I wanted to frost a layer cake with it. If someone had taped me frosting the cake it might have gotten a million likes…er…laughs on You Tube. The big batch of frosting was too warm, and kept sliding down, nearly off the plate, so I had to keep pushing it back up until finally it was cool enough to stay in place. Even I was laughing at myself. Then it began to setup before I could nicely cover the top of the cake. A few weeks later, I made another, and cooled the liquid to 110 degrees before adding the powdered sugar, and the process went better…not perfect…no, not perfect, but better.
And yes, I will try it again. After all, Ron says with nearly every bite, "This cake is so good." Oh, you may wonder why I don't just make a loaf cake. I will, I'm sure of it. But I rather like the balance of frosting and cake provided in every bite of a layer cake. And, I think a layer cake is prettier. Don't you? Now, please, don't call me fussy. For at this moment I don't feel like hearing the truth.
FYI: New Recipes will now be posted every three weeks.

| | | |
| --- | --- | --- |
| Raisin Cake with Penuche Frosting | | Print |
Author:
Alta Kitson Kenyon
Ingredients
1 cup raisins - cooked - medium heat - five minutes in two cups water, then completely cool.
1 & ½ cups raising juice (If there isn't that much, add enough water to make ! & ½ cups.)
2 cups brown sugar
4 cups flour
1 teaspoon soda
1 teaspoon cinnamon
1 teaspoon cloves
1 teaspoons nutmeg
1 teaspoons baking powder
⅓ cup lard (had no lard, used bacon fat)
PENUCHE iCING
½ cup butter
1 cup brown sugar (packed)
¼ cup milk
1 & ¾ to 2 cups sifted powdered sugar. I used 2 cups.
(Double for layer cake.)
Instructions
On medium heat, cook raisins five minutes in water.
Strain raisins, and save raisin water. If not 1 & ½ cups add water.
Cool to room temperature.
In mixing bowl, add brown sugar, flour, soda, cinnamon, cloves, nutmeg and baking powder.
Mix together with spoon.
In small amounts add lard or bacon fat.
Add small amount of raisin water, and beat.
Add more water, beat.
Add rest of water, beat.
Beat until well blended.
With spoon - stir in raisins.
Grandma's recipe had no baking instructions. I suggest baking cake in loaf pan at 350 - checking center with a toothpick at 30 minutes. Then adjust baking time as needed.
My layer cakes were baked in insulated cake pans and baked for 45 minutes. Insulated pans need longer baking time, but cakes usually come out of oven with level tops.
PENUCHE ICING
Melt butter in saucepan, add brown sugar, and stir in milk.
Bring to boil stirring constantly.
Cool to lukewarm. If frosting layer cakes cool to 110 degrees.
Gradually stir in confectioners sugar until smooth.
If icing becomes too stiff, add a little hot water.