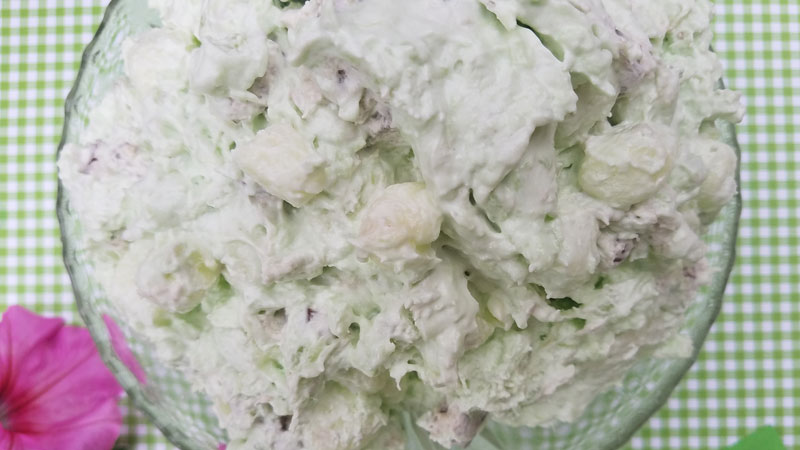 Watergate! Why would a salad be named Watergate? I have always wondered? So, I asked Google and learned the following:
"Kraft Foods debuted its bright green instant pistachio pudding mix in the 1970's, and promoted a recipe using the pudding mix called Pistachio Pineapple Delight.  It's believed that a crafty editor at a Chicago newspaper reprinted the recipe but renamed it "Watergate Salad," and the new name stuck."
The Watergate scandal took place during the 70's. For info on the scandal I checked Wikipedia to read:
"The Watergate scandal was a major political scandal that occurred in the United Stated during the early 1970's, following a break-in by five men at the Democratic Nation Committee headquarters at the Watergate office complex in Washington D. C. on June 17, 1972." This was during Richard Nixon's presidency, and was the reason for him leaving office.
This salad is scrumptious. So much so, that I have always thought that it should be a dessert, served in a small, stemmed dish, with two mint leaves, and a maraschino cherry on top. But, I still serve it with extended family meals, because some of the grand-kids like it so well, and they are accustomed to it being considered a salad. It is good, why shouldn't it be… made with…pudding, Cool Whip, pineapple, marshmallows, and nuts? That's dessert to me!
It happened without me realizing it, until the last time I made this salad.  I wondered, " Why is this salad slightly soupy? It never used to be." I looked at the empty pineapple can; it wasn't a 16 ounce can, it was a 20. Somehow, for sometime, I had been purchasing the wrong size can. Maybe they don't make 16 ounce cans of crushed pineapple any longer? The salad in the picture should actually be a brighter green, but due to more pineapple and juice it isn't. I am going back to 16 ounce – even if I have to separate 4 ounces from the container.
One more thing, after all, how much can one say about a simple salad. I have thought of exchanging the Cool Whip for home-whipped, sweetened, whipped cream. Of course, it would have to be served shortly after it was made for the whipped cream does tend to breakdown. Hmm, I will be providing the snack for adult Sunday School in a matter of weeks, and I do have a quart of maraschino cherries. Hmm.

Ingredients
3 oz. 'Instant' pistachio pudding
8 oz. Cool Whip, 'thawed' in refrigerator
16 oz. crushed pineapple with juice,
1 & ½ cup small marshmallows, chilled
½ cup chopped nuts, chilled
Instructions
Pour dry INSTANT pudding into pineapple and juice and dissolve.
Check size of can, a larger amount with effect the firmness of the salad.
Mix with Cool whip, thawed, and add marshmallows and nuts.
Refrigerate 1 hour or more, or overnight.