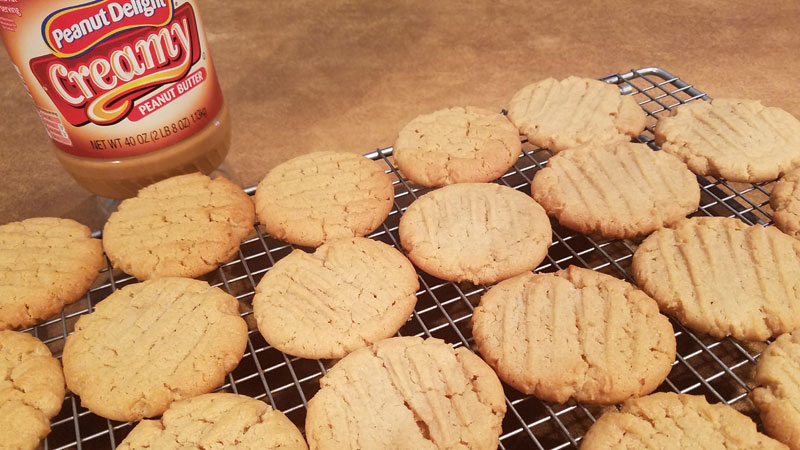 We have eaten the same ol'- same ol' Peanut Butter Cookies our entire marriage, and I have eaten them throughout my growing up years. And why not? Is there a better cookie? Well, okay, I do have a few other favorites, well, maybe more. However, these cookies remain fresh tasting longer than most. And they are also,  sturdy, and transport well for biking lunches, picnics, and church, coffee hours.
For perfect peanut butter cookies, meaning that they are well baked, but have not browned on the bottom – at all – follow these directions. Carefully watch the cookies while baking, pull them out of the oven just after a couple cookies develop a slightly browned edge. Let them finish baking on the cookie sheet. Perfection. Oh,cookies success is made easier by using a digital, kitchen scale and insulated, cookie sheets.
Yes, in reference to cooking, you do read the word perfection from me quite often. For when I am in the kitchen – that is what I am after! Don't get me wrong, the quest for perfection is not for me. I can scrap the black off the bottom of a cookie, or a piece of toast, and enjoy it. So could my grandmother (when I was a girl she lived next door), and my mother. No, my quest for perfection was learned from watching them. They exampled that a best-effort is a gift-of-love for family, friends, and all others who cross the threshold. But, if your cookies do burn, for 'things' happen, try giving them a Cajun name, like 'Blacken-Nut,' and serve with cups of milk for dippin.' Heh, heh. Yes, I have done that! Several times. It was at least…good for a few laughs. And, a good laugh can nourish a hungry soul!

| | | |
| --- | --- | --- |
| Same ol' Peanut Butter Cookies | | Print |
Author:
Received from Dorothy Box
Ingredients
½ cup shorting
½ cup butter, room temperature
1 cup peanut butter
1 cup sugar
1 cup brown sugar-packed
2 eggs
3 cups sifted flour
1 t. baking powder
1 & ½ teaspoon soda
Instructions
Mix shortening, peanut butter, sugars, and eggs thoroughly.
Sift rest of ingredients together.
Mix with shortening/peanut butter…
Chill dough completely - 3 hours.
Heat oven to 375 degrees.
Roll dough into balls size of a walnut.
Place 3 inches apart on lightly greased cookie sheet.
Flatten with fork dipped in flour, crisscross.
Bake 10 to 12 minutes or until almost set.
Remove from oven just before browning begins.
Let finish baking on cookie sheet for 10 minutes.
Makes 40 - 2 & ½ inch cookies.
For a dainty cookie make dough balls of 0.6 ounces.
I often make 0.8 ounce balls for 52 cookies. Bake for about 11 minutes.