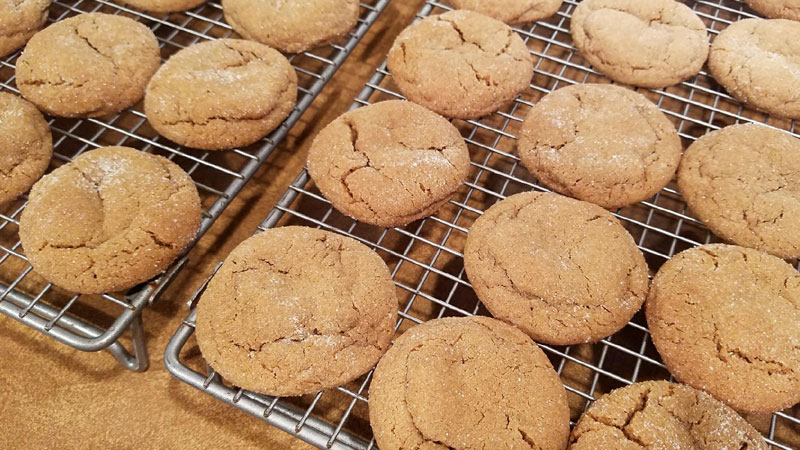 After years of making chocolate chip or peanut butter, this recipe has become my go-to cookie. Besides being delicious, it has a cracked and sugary surface which gives it eye appeal. Eye appeal has more to do with perceived taste than I once realized.
I learned that while driving home one evening in the dark. I have a liking for fruit-flavored chewy, gumdrops. While returning home, years ago, without being able to see the color of the candy, I put a gumdrop in my mouth. To my surprise, I was unsure of which flavor I had taken. Was it cherry, lemon, lime, orange, surely if it was licorice I could tell? Couldn't I? The flavor which I had always considered distinctive was – in the dark- difficult to discern. That began my study on, "Am I enjoying this because it is tasty, or because my 'eye' has deceived me?"
The first many times that I made these cookies, I followed the recipe, and they always turned out moist and chewy. But, like I often do, I tweaked by adding a little extra flour. That resulted in a thicker and crunchier cookie – each recipe is delightful. So now, I switch back and forth between flour amounts.
Yes, I do weigh the dough balls, it makes for uniform cookies, and I like that. No, it is not necessary, but I have a digital kitchen scale, and it takes but a second.
One last thing, keeping the dough balls cold before baking keeps the dough from spreading out too thin. Remember do not roll the balls in the sugar until you are ready to put them in the oven, otherwise the sugar will dissolve.
Have fun baking. Next week Pork and Bean Casserole, another favorite. How can there be so many favorites! Well, we do eat at least three times-a-day, times a life-time. For me that makes at least 79,935 meals!

| | | |
| --- | --- | --- |
| Sugar and Spice Cookies | | Print |
Ingredients
Mix together:
¾ cup shortening
1 cup sugar
2 egg
¼ cup molasses
Then add:
2 & ½ cup plus 6 tbsp flour (I sometimes use 3 cups plus 3 T.)
2 t. soda
¼ t. salt
1 t. cinnamon
¾ t. ground cloves
¼ t. ginger
Instructions
Chill 3 hours.
Form into 1 ounce balls the size of small walnuts.
Chill 30 minutes or more.
Just before baking, remove from the refrigerator the amount needed for the cookie sheet(s).
Roll in granulated sugar and bake immediately.
Keep the rest of the un-sugared cookie balls cold until time to bake them.
Place 2 inches apart on a greased cookie sheet.
Bake for 10 minutes at 375 degrees.
Remove from hot cookie sheet as soon as the cookies have set long enough to be moved without breaking up.
Makes 30 to 32 cookies.