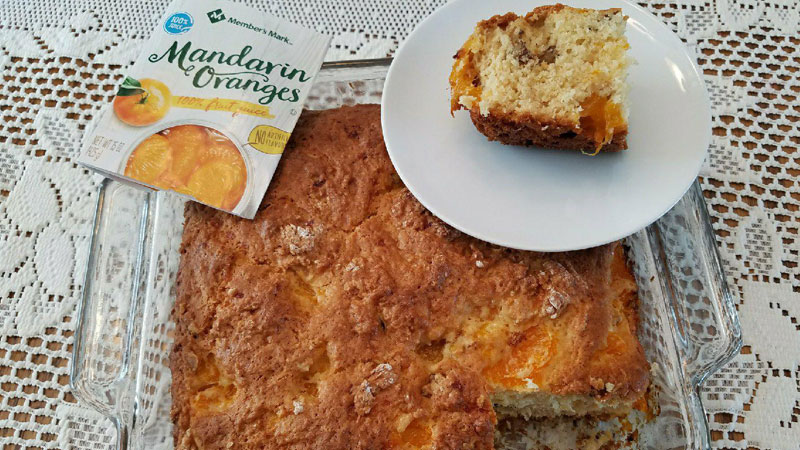 One day when Ron was home alone, he perused my bread recipes, and decided to make peach bread, but we where out of a few ingredients. So, he replaced canned mandarin oranges for peaches, and used butter in place of oleo. For reasons unknown, he did not use a loaf pan, but baked the batter in a 8 x 8 inch glass pan. To top that off, he forgot to remove it from the oven on time; he was on the phone.
By the time he remembered the bread, the top was dark brown and crusty.  We had a new recipe! The crusty top, and bottom, texture provided an interesting change from our usual sweet breads, and because Ron had used a shallow pan, there was more of it to enjoy. One draw back, he did not know how long he had baked it?
So, for now, if you try this recipe, watch it closely, and remove it from the oven when it resembles the post picture. Even though it is crusty, it toasts well. You might also like to serve it with Orange Marmalade…just a thought.

Ingredients
2 cup flour
⅔ cup sugar
1 T. baking powder
½ t. salt
15 oz. can of mandarin oranges
2 eggs
⅓ cup melted butter
1 T. lemon juice
½ cup chopped nuts
Instructions
Preheat oven at 350 degrees and grease a 8 by 8 pan.
Mix the dry ingredients and set aside.
Drain, reserve ¼ cup syrup.
Cut mandarins into chunks.
Combine mandarin syrup, eggs, lemon juice, and butter.
Mix with mixer until smooth.
Fold in mandarins.
Pour mandarin mixture over flour mixture.
Stir just until moistened.
Add nuts.
Bake time is undetermined, as mentioned in post.