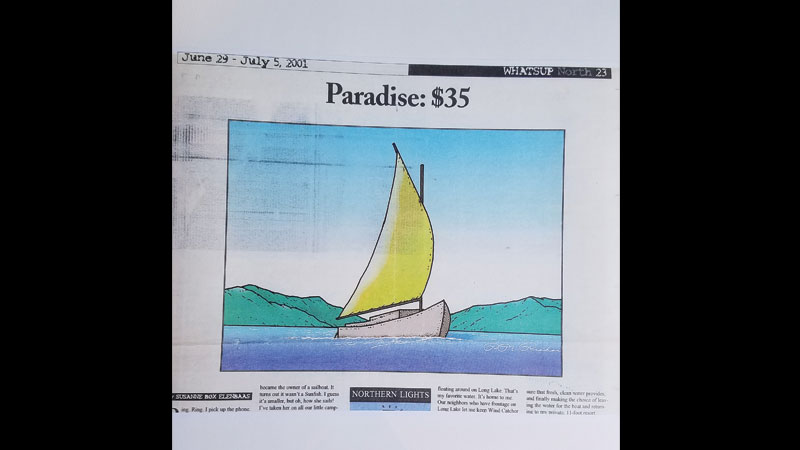 Ring. Ring. I pick up the phone.  It's our son-in-law, Mike.
"Do you still want a little sailboat?"
"Yes."
"I'm standing right next to one, a Sunfish, I think.  It's $35.00.  It's faded, but it doesn't seem too bad."
"Sounds good to me."
"Do you know how to sail?"
"No."
He asks, "Have you sailed much?"
"Twice.  Once in '66.  It was a wooden sailboat.  The water was rough. The boat was often right on its edge, just inches from the surface. Since I love to be in or on the water, I thought it was terrific; but Ron, (my husband, his father-in-law) was a little shaky. The other time was in '75. It was just a little boat, and except for an occasional gust, there wasn't much wind, and not a sailor among the three of us. At one point Ron got dumped and nearly struck by the boom. We ended up beaching the boat, and returned in a borrowed pickup. But I loved it – every minute of it."
"Well I'll take you out and teach you."
"Super!"
That's how in less than a minute, I became the owner of a sailboat. It turns out it wasn't a Sunfish. I guess it's smaller, but oh how she sails! I've taken her on all our little camping trips around Traverse City with some of our children and grandchildren. I've even taken her out on Lake Michigan when we camped at the National Park near Platte River. The waves were a bit higher than I was comfortable with, but it was exhilarating.
I was surprised at how quickly I learned to handle her. It seems Mike is an excellent teacher.  Everyone, well most everyone except Ron, feels safe with me, and my little Wind Catcher. That's what I've named her.  It's the perfect name.  I've always liked trying to catch the wind. I can ride in the car for miles with my arm out the window, my hand cupped catching the feel and strength of the wind. But the beauty of catching the wind in a sailboat is that there is no motor noise drowning out the renewing sounds of nature. There is only the pure, sweet sound of waves and wind, and the feel of the breeze moving the boat through the welcoming water.  What joy, what peace is present with every sail unique, as one day is from another. After church on Sunday, I've spent numerous afternoons sailing, or just floating around on Long Lake.  That's my favorite water. It's home to me. Our neighbors who have frontage on Long Lake let me keep Wind Catcher on their beach when they're not at their cottage. It's so convenient to just walk down the two track road, take out my boat and glide into paradise.
Oh, Torch Lake is incredible! We set up camp at Barnes Park in Eastport and head over to the north end of Torch, and tack around staying close to shore. The water is beautiful with shades of emerald green and various blues, but it is shockingly cold. Torch seldom seems to warm up. So I make every effort not to capsize, but if I do, I'm close to the beach and a dry towel.
Now Duck Lake is different. It's smaller and warmer.  And by the time we camped at Interlochen State Park I had gotten so expert at handling my little bargain, that I could take out the older of our nine grandchildren.
This has been the best of all summers – sailing under puffy, white clouds, or merely floating on peaceful or playful waves, anticipating plunging into the perfect fit of the sun kissed water, swimming on or under the water from back, to stomach, to side, or rolling over and over like a log until dizziness halts the action, immersed in the freedom and pleasure that only fresh, clean water provides. Eventually, making the choice of leaving the water for the boat is made, it is like choosing between two favorite desserts. Finally I do return to my private, eleven-foot resort where the sun dries my body more luxuriously that the touch of a thick, warm towel.
And what even makes it better is that land loving Ron has grown to trust me enough to occasionally accompany me.  Sometimes he shakes his head and smiles at the new adventure I have brought to his life. I've taken the sailing class offered by Northwestern Michigan College so that I can handle a larger boat.  And we are looking for a bigger bargain which would give us a fleet of two for our camping trips.
Oh, its been a great summer since I acquired my little treasure. The surfaces of the beautiful area lakes have become my personal paradises, places where time finally seems to stand still and allow the matchless opportunity to reflect or consider. Who would ever think I could have such an event filled summer with a $35.00 boat which hasn't yet left our backyard? Mike delivered it just yesterday.
Traverse City Record-Eagle Summer Magazine 6-29-01