Rumor has it that the ice beneath the
snow on Page Lake is excellent.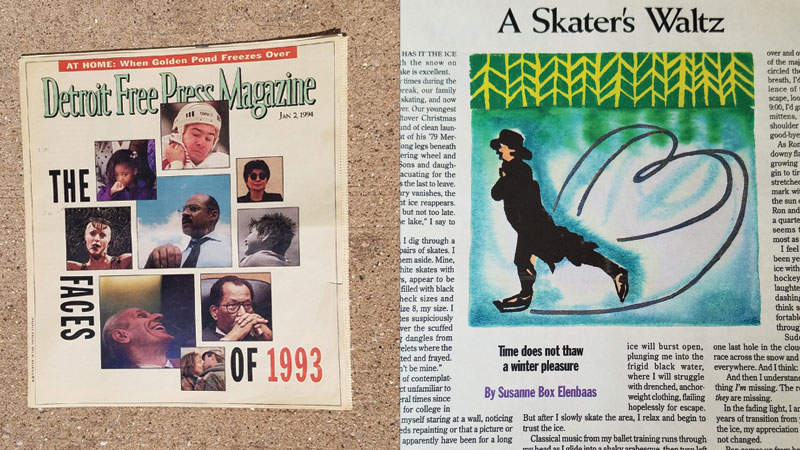 A few times during the busy Christmas break, our family tried in vain to go skating, and now the holidays are over.  Our youngest has just added leftover Christmas goodies to the mound of clean laundry in the backseat of his '79 Mercury, and gathered his long legs beneath the discolored steering wheel and waved good-bye. Sons and daughters have been evacuating for the last three days; he is the last to leave.
When the Mercury vanishes, the thought of excellent ice reappears. It is late afternoon, but not too late. "Let's check out the lake," I say to my husband, Ron.
In the basement, I dig through a musty box for two pairs of skates. I find Ron's and set them aside. Mine, a pair of smooth white skates with shiny steel runners, appear to be missing. The box is filled with black or dingy ones. I check sizes and eliminate all but a size 8, my size. I pick up the old skates suspiciously and run my palm over the scuffed leather. Torn piping dangles from the ankle near the eyelets where the grimy laces are knotted and frayed. I whisper, "These can't be mine."
This phenomenon of contemplating a household object unfamiliar to me has occurred several times since the last two kids left for college in the fall. I have found myself staring at a wall, noticing that it desperately needs repainting or that a picture or drapes are faded and apparently have been for a long time. Sometimes I feel like a visitor in this house, viewing it with the critical eye of someone seeing it for the first time. Was I that busy through the years of child rearing?
Facing the lowering sun, Ron and I make an easy path through the fluffy snow down to Page Lake. We carefully descend the steep ridge of pines and hardwoods which surrounds the small, isolated lake. Ron hangs his skates from a branch and begins to scrape his shovel across the ice, disrupting the softly placed layers of pure, white snow. One swipe of my mitten clears the top of an ancient tree stump in a puff of fluttering snowflakes. I sit and put on my skates; they're stiff and cold, but they feel as familiar as a friend's embrace.
My first time on the ice is always eerie. I imagine the ice will burst open, plunging me into the frigid black water, where I will struggle with drenched, anchor-weight clothing, flailing hopelessly for escape. But after I slowly skate the area, I relax and begin to trust the ice.
Classical music from my ballet training runs through my head as I glide into a shaky arabesque, then turn left and right within an expanded figure eight. I execute a series of twists and twirls that snap to the rhythm of Tchaikovsky.  Usually at this point peace overtakes me and every care is pushed aside.
"There it is. I love it," Ron says.
"Love what?" I ask.
"That look you get whenever you skate – a faraway, in-another-world look."
I try to smile, then turn away. I don't truly feel what Ron thinks he sees. I withdraw to the most distant corner of the cleared ice.
The rhythm of my waltz takes me back to moonlit evenings on the tiny lowland pond across the road from my childhood home. In the secret darkness, I'd skate over and over the intricate shadows of the majestic dying elms that encircled the ice. When I was out of breath, I'd stop and, in the deep silence of the snow-covered landscape, look up into the night sky. At 9:00, I'd gather up my hat, jacket and mittens, sling my skates over my shoulder and say good-night, but not good-bye.
As Ron slides his shovel, puffs of downy flakes pile higher around the growing patch of exposed ice. My ankles begin to tire. I sit on the ice, legs out-stretched, and follow a narrow blade mark with my finger while I watch the sun disappear behind the ridge. Ron and I are alone on the ice after a quarter-century of raising kids. It seems they have disappeared almost as quickly as the sun.
I feel a vague uneasiness. It has been years since I have been on the ice without a gang of kids, noise and hockey sticks. Am I missing the laughter, screams and shrieks, the dashing every which way? I don't think so. But the feeling is uncomfortable, like the dampness seeping through my jeans.
Suddenly the setting sun finds one last hole in the cloudy horizon. Rays of sunlight race over the lake generously sprinkling bright, shivering diamonds all across the snow and ice. The scene moves from beautiful to dazzling. And I think "If only the kids could see this."
It is then that I understand my uneasiness. It isn't something I'm missing. The regret is for our kids and what they are missing.
In the fading light, I am grateful that throughout the years of transition from young girl to grandmother on the ice, my appreciation for these winter pleasures has not changed.
Ron comes up from behind me, slides the shovel beneath me and gives me an unsteady ride across the ice to the old tree stump. He insists on removing my skates just as he has done so many times for our kids. He looks up at me with a broken piece of shoelace in his hand and says," Do you think it's too soon to call the kids and make plans for a weekend of skating?"
"I think that they would like that," I answer.
He winks and says, "I think you'd like that, too."
While Ron retrieves his unused skates, I grab my hat and mittens. I gaze down at the lonely little lake and say good-night, but not good-bye.
Detroit Free Press Magazine 1-2-93