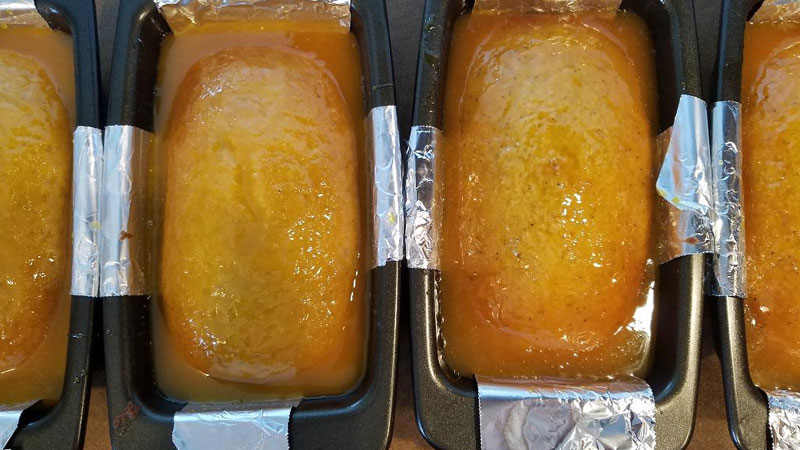 Dear Cook, this sweet bread is yummy, and is a long time family favorite. I took it to our small group where we were watching R. C. Sproul videos on apologetics. The bread nearly disappeared.
During a spring blizzard a few years ago, after my granddaughter's request, I made four loaves of the bread for her daughter's dedication day. Due to the storm, the dedication had to be postponed. But, no worries, the bread freezes very well, so its in the freezer for next week.
As you can see in the picture, I used foil for lifting the bread out of the pans. I thought that instead of removing the loaves while the bread was still slightly warm, that I would try letting the sauce set until firm. My mistake. Completely cooled, it was very difficult to remove. The foil strips only ripped when I gently pulled on them. I suggest not using strips, and just removing the bread while it is still warm.
One more suggestion: when using larger than normal bread pans, as I do, I increase the amount of sauce by one-half. Have fun in your kitchen, and keep on lickin.' Oh, did I say lickin'? Surely, I meant tickin.'
For a printed copy, with or without photo, click green dot on left side at the bottom of this page.
If you would like a Monday reminder, and quick link, in your email to next week's post, just sign-in at the secure registry at the top of this page, and click GO. For a private conversation, please write your message on the Contact page found at the right on the Home Page.

Author:
Received from Edna Shoobridge
Ingredients
Liquids:
3 eggs
1 & ½ cups milk
1 & ⅛ cups oil
½ t. vanilla
½ t. butter flavoring
½ t. almond flavoring
Dry:
3 cups flour
2 & ⅓ cups sugar
1 & ½ t. salt
1 & ½ t. baking powder
1 & ½ T. poppy seed
Sauce:
¼ cup orange juice, frozen, undiluted concentrate
¾ cup sugar
½ t. vanilla
½ t. butter flavoring
½ t. almond flavoring
Instructions
Blend eggs, add milk and oil. Blend.
Add flavorings. Blend.
Combine dry ingredients, add to liquid, mix.
Pour into 2 greased loaf pans.
Bake at 325 degrees for 1 hour or until light brown and split on top.
While bread is still warm mix sauce in pan on low heat.
Warm sauce just until sugar dissolves.
Baste on bread several times. Can use pastry brush.