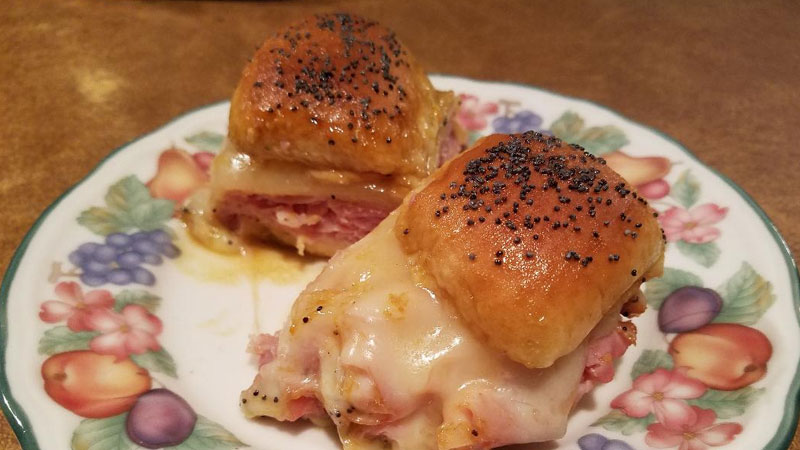 Dear Cook, when I received this recipe, the following was printed at the top of the page, "Funeral Sandwiches – Great for hungry tummy snacks at the end of a day of eating sweets." Without ever having tasted one, I made them for volunteers working for the WLJN Radio Sharathon. When I did take my first bite, I was sold on them! I told myself, this would be perfect for late evening snacks at our family Christmas. They are made a day ahead, such a convenience. Before serving, they just need to be heated for twenty to twenty-five minutes. Twenty-four little sliders in a 9 by 13 pan, perfect. I'll make two pans for Christmas. BUT they are so out-of-this-world delicious that the gathering of thirty some will wish that I had made more! Without a doubt!
Oh, I forgot to mention that the sandwiches are called funeral buns because they are so good they-are-to-die-for!
For a printed copy, with or without photo, click green dot on left side at the bottom of this page.
If you would like a Monday reminder, and quick link, in your email to next week's post, just sign-in at the secure registry at the top of this page, and click GO. For a private conversation, please write your message on the Contact page found at the right on the Home page.

Author:
Received from Nedra Shoobridge
Ingredients
SANDWICHES: SERVES 12 - makes 24 small sandwiches.
24 ct pkg Hawaiian Rolls (King's brand is best.)
1.5 lbs. slivered Honey Ham from deli
24 slices Swiss cheese from deli (21 - 7 ounce slices provided 3 layers of cheese.)
Mayonnaise to lightly spread (Some add small amount of horseradish to the mayo.)
GLAZE INGREDIENTS:
1 cup melted butter
4 Tbsp brown sugar
2 Tbsp mustard
2 Tbsp Worcestershire sauce
1 Tbsp onion, finely minced
Poppy seeds for sprinkling
Instructions
SANDWICHES:
Cut sandwiches in half with long knife - slice thru whole package without separating.
Spread the insides lightly with mayo.
Lightly oil or spray 9 x 13 inch pan with Pam.
Line the bottom of the pan with the bottom half of the rolls.
Layer them with ham slices and the cheese.
Place the top half back on.
GLAZE:
Mix together melted butter, brown sugar, mustard, Worcestershire sauce & onion.
Pour concoction evenly over the buns, drenching each one.
OR let it cool, and brush on with a pastry brush. (This worked well for me.)
Sprinkle buns with poppy seeds.
Cover lightly. Marinate 24 hours in refrigerator.
NEXT DAY COOKING:
Remove from refrigerator and bring to room temperature - maybe 3 hours.
When ready to cook, preheat the oven to 350 degrees.
Bake 15 to 25 minutes, uncovered, until cheese is melted and tops a bit golden.
Cut into 24 sandwiches.
Serve warm.