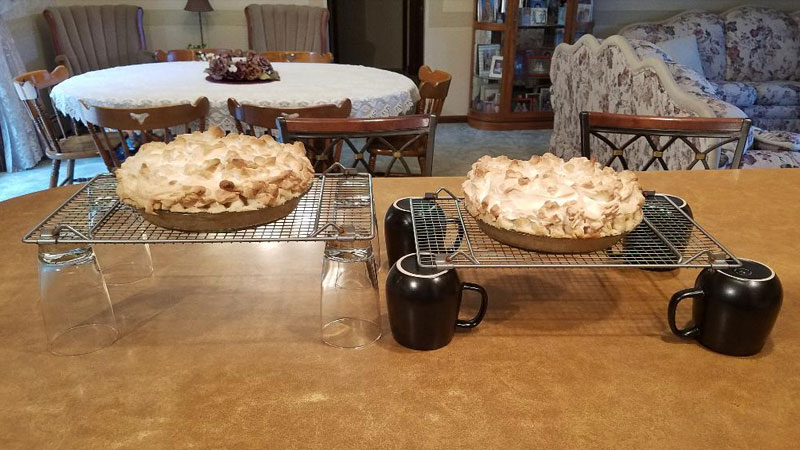 Dear Cook, my dad's favorite pie was the southern Indiana butterscotch pie from his youth. So Mom did her best to make butterscotch pies like those he remembered. He liked them sweet. The expression, 'Sweets for the sweet,' was fitting for him.
This recipe, with one change from light to dark sugar, was originally taken from my mother's Betty Crocker Cookbook which has been out of print for decades. My newer, 54-year-old-book, does not include Butterscotch Cream Pie.
After baking a 9-inch pie crust, and before preparing the filling, get everything ready for making the meringue topping. Place ROOM TEMPERATURE egg whites in the electric mixing bowl, beside the bowl set out the measured sugar and cream of tartar. Stop there. Don't make it ahead, it will get watery. But to help the meringue cook fully, you must get the meringue on the cream filling while it is HOT. So after pouring the filling in the baked crust, speedily whip up the meringue, but don't rush beating the egg whites.
Best way to slice a meringue pie: I have tried every method that I have heard of, and the following one seems to work the best. Use a long, thin, wide knife. Spray it with cooking spray. Lightly wipe excess from the knife before each cut, or it will leave an ugly, oily edge on the meringue. It is usually necessary to spray before each cutting.
If transporting a cream pie, it is best to cut it after arriving at your destination.  This pie does not travel well, it often cracks.
For a printed copy, with or without photo, click green dot on left side at the bottom of this page.
If you would like a Monday reminder, and quick link, in your email to next week's post, just sign-in at the secure registry at the top of this page, and click GO. For a private conversation, please write your message on the Contact page found at the right on the Home Page.

| | | |
| --- | --- | --- |
| Butterscotch Cream Pie | | Print |
Ingredients
Filling:
1 cup dark brown sugar, packed (dark is richer)
¼ cup cornstarch
½ t. salt
1 cup water
1 & ⅔ cup whole milk
⅓ cup butter
4 large egg yolks, slightly beaten
1 & ½ t. vanilla
Meringue: (I make a large meringue, double the normal.)
6 egg whites, room temperature
½ t. cream of tartar
¾ cup sugar
1 t. vanilla
Instructions
Mix brown sugar, cornstarch, and salt in heavy saucepan.
Gradually stir in water and milk.
Add butter and cook over medium heat, stirring constantly, until mixture thickens and boils.
Boil 1 minute and remove from heat.
Gradually stir at least half of hot mixture into egg yolks.
Blend into hot mixture in saucepan.
Boil 1 minute more, stirring constantly.
Remove from heat and blend in vanilla.
Pour immediately into baked pie shell.
Finish with meringue.
Let cool at room temperature for 7 hours or overnight.
I often make it on Saturday for Sunday's 1:00 meal, keeping it at room temperature.
If this recipe is too rich, try light brown sugar and 1 less egg yolk.
Meringue
Beat egg whites and cream of tartar until foamy.
Beat in sugar, 1 T. at a time; continue beating until stiff, and glossy.
Do not under beat.
Beat in vanilla.
Bake at 400 degrees until a delicate brown, about 10 minutes.