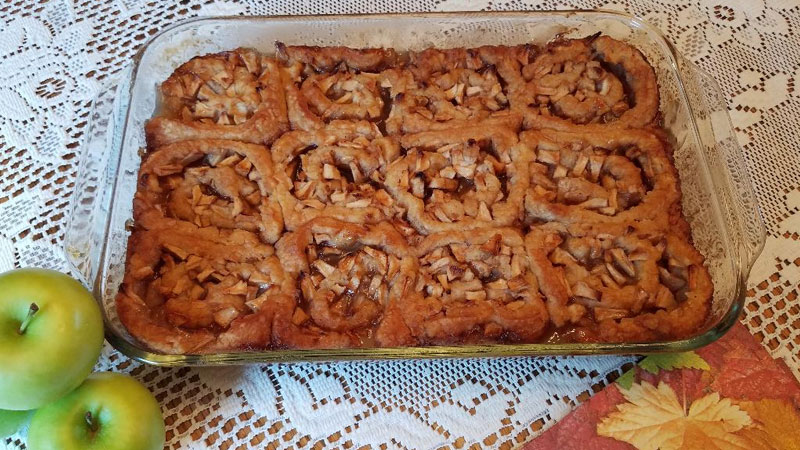 Dear Cook or Baker, sometimes success in the kitchen calls for an 'I-can-do-it' attitude. This recipe calls for that – twice. Once while finely dicing the apples, and a second time -when rolling up the delicate dough.
The apple dumpling maker must be, or pretend to be, fearless! Just stare down the dough which seems to say, "You will never move me in one piece," and do your best. Yes, it will still likely rip or fall apart a little, but who's to know? Besides that, a few tears won't hurt the taste!
This recipe calls for pouring liquid over the dumplings; they will float a little, don't worry. The liquid will be absorbed, but must set 3 to 4 hours. Once the twelve slices of scrumptiousness are beautifully browned, bubbling up sweet juices, filling the house with an irresistible aroma, you will have shown that hunk of dough, and slippery apples bits, just who's boss in your kitchen.
Yesteryear:
This late 1930's recipe came from a friend of my mother's, whom I thought looked like Susan Hayward. Her friend grew up in a dirt poor home, so much so, that there was often a scarcity of milk and butter. Since the apple dumpling recipe called for small amounts of both, it was a common dessert in her home.
For a printed copy, with or without photo, click green dot on left side at the bottom of this page.
If you would like a Monday reminder, and quick link, in your email to next week's post, just sign-in at the secure registry at the top of this page, and click GO. For a private conversation, please write your message on the Contact page found at the right on the Home Page.

Ingredients
Syrup:
2 & ½ cup sugar
2 cup water
¼ t. cinnamon
¼ cup butter
1 T. vanilla
Apples:
5 cups - about 7 medium apples, room temperature
½ cup sugar
½ t. cinnamon
Dough:
2 & ½ cups flour
2 & ½ t. baking powder
1 & ¼ t. salt
¾ cup plus 3 T. shortening
½ cup plus 2 T. milk
Soft butter to spread on dough and pan
5 T. butter to top apples
Instructions
Apples: Peel, core and chop fine, 5 cups apples.
Set aside.
Syrup: in a sauce pan, mix sugar, water, cinnamon, butter and vanilla.
Dissolve, and heat to warm. Shut heat off.
Dough:
In large bowl mix flour, baking powder, salt.
With a fork, blend in shortening.
Blend in milk.
On floured surface, roll dough into a 12 by 18 inch rectangular shape the thickness of a pie crust.
Coat with softened butter.
Sprinkle apples with a mix of sugar and cinnamon.
Spread on dough.
Dot with butter and roll up like jelly roll.
A few rips will not hurt the outcome.
Cut rounds 1 & ½ inch thick.
In a 9x13 buttered pan, place cut side down, leaving space between, 3 across, 4 down.
Quickly reheat syrup to hot.
Very gently pour the hot syrup slowly over the dumplings, and between them.
Bake for 1 hour at 400 degrees.
Carefully remove juicy dumplings from the oven.
Let sit for 3 to 4, or more hours. The liquid will be absorbed.
Do not refrigerate.
If served the next day, cover and warmed slightly for 10 to 15 minutes @ 275.
Serve with real whipped cream.