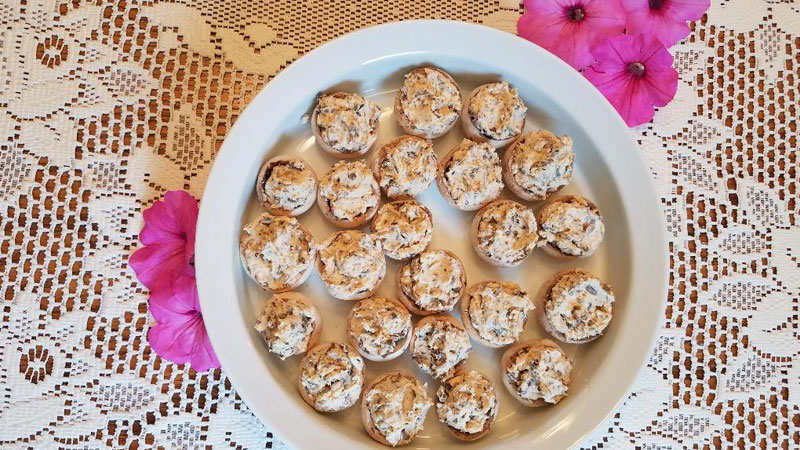 Dear Cook, until I seriously dieted, I never liked mushrooms. Liking mushrooms, especially these, is now the only benefit left from that season of my life. For the weight I lost during that time – has found its way back home. This 'prodigal' is far from welcome!
The first thing I learned about fresh mushrooms is that they should not be washed, merely wiped clean. Sorry, that will not do for me. Apparently fresh mushrooms are like sponges, and absorb water. So, the day before I plan on using them, I quickly rinse them under running cold water, one by one, and let them completely dry on paper towels. After drying, I place them in the refrigerator, uncovered. If you cannot stand to have anything in the refrigerator left uncovered, cover them, but leave air flow openings. I like most everything covered too. 🙂
It is important to place the baked mushrooms on a paper towel to collect the liquid before placing them on a serving tray. These can be prepared a day ahead, and reheated in the oven.
For a printed copy, with or without photo, click green dot on left side at the bottom of this page.
If you would like a Monday reminder, and quick link, in your email to next week's post, just sign-in at the secure registry at the top of this page, and click GO. For a private conversation, please write your message on the Contact page found at the right on the Home Page.

| | | |
| --- | --- | --- |
| Mouthwatering Stuffed Mushrooms | | Print |
Author:
Perhaps Taste of Home - Great Magazine
Ingredients
12 whole fresh mushrooms -medium size
1 tablespoon vegetable oil
½ tablespoon minced garlic
8 ounce package cream cheese, softened
¼ cup grated Parmesan cheese
¼ teaspoon ground black pepper
¼ teaspoon onion powder
¼ teaspoon ground cayenne pepper
Instructions
Directions:
Preheat oven to 350 degrees.
Spray a baking sheet with cooking spray.
Rinse one mushroom at a time, removing specs.
Let dry.
Carefully cut out stems, and fanning to create a bowl.
Discard tough ends of stems.
Chop stems and fanning extremely fine.
Heat oil in a large skillet over medium heat.
Add garlic and chopped mushroom stem mixture to the skillet.
Fry, stirring, until any moisture has disappeared, taking care not to burn garlic.
Set aside to cool.
When garlic and mushroom pieces are no longer hot, stir in rest of ingredients.
Mixture should be very thick.
Using a little spoon, fill each mushroom cap with a generous amount of stuffing.
Arrange the mushroom caps on prepared cookie sheet.
Bake for 20 minutes - until the mushrooms are piping hot and liquid forms under caps.
Move mushrooms from baking sheet to paper towel, from towel to serving tray.
Can be prepared a day ahead. Reheat in low oven.