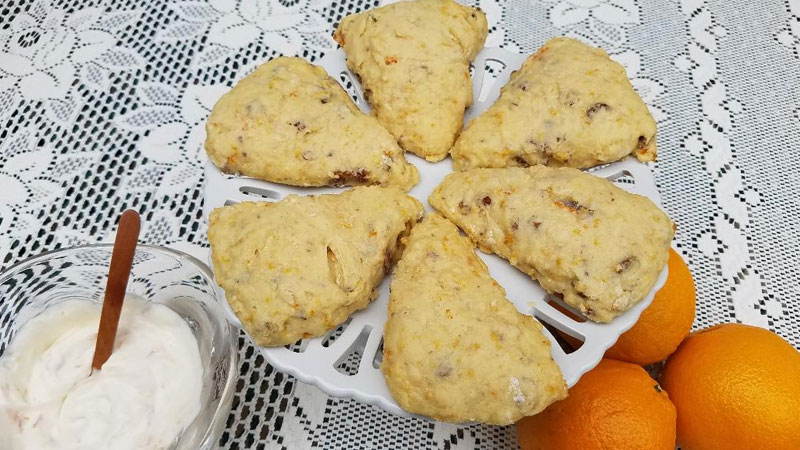 I don't remember eating scones until an anniversary weekend, 1989, in Toronto. While there, Ron and I enjoyed High Tea at King Edward's Hotel, and it certainly was a high, such wonderful leisure. I get rested up just thinking about it. Since that time, I have been experimenting with scones of all kinds.
Recently, my kind of recently, in the last ten years, I joined a one-session scone baking class at our community college. There, the chef revealed the secrets for perfect scones, keep the butter ice cold, handle the dough as little as possible, and do not over bake. The chef said, "…even a few extra seconds can dry them out. Get those babies out of the oven ASAP! They can finish baking on the baking sheet."
If you plan on serving them the next day, freeze them as soon as they are nearly room temperature. This will result in a seemingly fresh baked scones. Remove from freezer two hours before serving. Do not reheat.
Some bakers make clotted cream to serve with scones. I did that once, and will never do it again, so much work for so very, very little. This is coming from a woman who rolls out and hand cuts her soup noodles. I have enough patience for ten people, but in place of clotted cream, I serve 8 ounces of freshly whipped, sweetened, and flavored whipping cream. For this recipe, I fold in 9 ounces of chilled – well stirred -Orange Marmalade to the whipped cream.
I made up this recipe in July 2016 for our Sunday School Class.
For a printed copy, with or without photo, click green dot on left side at the bottom of this page.
If you would like a Monday reminder, and quick link, in your email to next week's post, just sign-in at the secure registry at the top of this page, and click GO. For a private conversation, please write your message on the Contact page found at the right on the Home Page.

Ingredients
1 cup buttermilk
⅓ cup frozen orange juice, concentrated, undiluted
1 large egg
3 & ½ cups all-purpose flour
4 tsp baking powder
½ baking soda
¼ tsp salt
4 & ½ Tbsp orange zest - from 2 large oranges
8 Tbsp, cold butter
1 cup broken pecans
¾ cup granulated sugar
Instructions
Heat over to 375.
Grease a baking sheet.
Mix buttermilk, orange concentrate, and egg. Set aside.
In a large bowl, stir together flour, baking powder, baking soda, salt and zest.
Add butter, cutting with a pastry blender until mixture appears granular.
Lightly stir in pecans and sugar.
Stir in buttermilk mixture with a fork until a soft dough forms.
Turn out dough onto a very lightly floured surface.
Knead only five times, more flour may be needed.
Separate dough into two balls.
Pat into two - 8 to 9 inch disks.
Divide each into 8 equal pieces.
Transfer to baking sheet.
Place in refrigerator for 45 minutes, or longer, to harden the butter for flaky scones.
Bake 15 minutes.
If you would like a Monday reminder, and quick link in your email to next week's post, just sign-in at the secure registry at the top of this page.